Surya Biography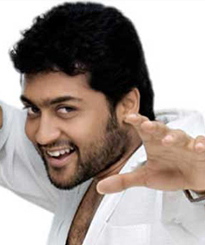 Saravanan commonly known as Surya is a successful actor in Tamil film industry. He has performed as a lead actor in over 28 films of various genres.
Surya was born to famous Tamil actor Sivakumar and his wife Lakshmi in Chennai. He is the eldest among his siblings. Surya did his schooling from St. Bede's School in Chennai and completed his B.Com from Loyola College.
He worked for few years in the garment industry before joining films. Surya started film career with NerrukkuNer, (1997) with Vijay a highly acclaimed film. He got success in "Friends" where he again acted with Vijay.
More On Kollywood
Kollywood Upcoming Movies
Kollywood Stars Biography
Kollywood Stars Latest Event Gallery
Kollywood Top 10 Songs
His film Nandha, directed by Bala rocked at box office and Surya grabbed his first filmfare award for best actor in this film.
Surya worked with Vikraman in the film UnnaiNinathu which was highly successful. This was followed by MounamPesiyadhe which also achieved box office success.
Surya acted as police officer in KaakhaKaakha that was a blockbuster.
In Perazhagan, Surya had double role, one as a boxer and the other a handicapped phone booth keeper. His role as the handicapped was highly applauded by audience and he received the Filmfare Award for Best Actor for his performance.
In 2005, Surya gave excellent performance in the super hit movies Aaru and Ghajini. Ghajini was his third hit and earned over Rs.200 million at the box office.

His acting talent was seen in Bollywood film Rakta Charitra directed by Ram Gopal Varma, a two-part political drama.
Surya has been the ambassador for TVS Motor, Aircel and Sunfeast. He has endorsed Saravana Stores, Bharathi Cements and EmamiNavaratna products and Malabar Gold. He had signed fresh deal with Nescafé, Zandu Balm and with Close-Up (toothpaste).
He is also engaged in social work. His Agaram Foundation aids children who are drop out of school. He made a short commercial video on child poverty, labour and lack of education with assistance from Tamil Nadu Education Ministry.
Suriya is also an active memember of "Save The Tigers" campaign and "REACH", a NGO helping TB patients. Surya has established a production company called Studio Green with his cousin K.E.Gnavelraja for producing and distributing a few of his own and his brother Karthi's films.
Surya is married to Jyothika Saravanan who is celebrity in Tamil industry. They have two children, a daughter and a son.
Surya Latest News
Updated On :
Feb 24,2018 6:18 pm
New Delhi, Feb 24 (IANS) Senior journalist Rahul Mahajan was on Saturday appointed Editor-in-Chief of Rajya Sabha TV, owned and operated by the Upper House of Parliament, the television channel said. View More..

Updated On :
Feb 21,2018 1:56 am
New Delhi, Feb 21 (IANS) Go for prints and techniques like bandhani and batik while picking outfits for your Holi celebrations, say experts. View More..

Updated On :
Feb 18,2018 6:16 pm
Bhubaneswar, Feb 18 (IANS) The Bharatiya Janata Party (BJP) and the Biju Janata Dal (BJD) on Sunday accused each other of using money to lure voters ahead of the February 24 bypoll for the Bijepur Assembly seat in Odisha's Bargarh district. View More..

Updated On :
Feb 17,2018 8:22 pm
Mumbai, Feb 17 (IANS) India's U-19 World Cup winning captain Prithvi Shaw has been named in the 16-member Mumbai squad for the knockout matches of the Vijay Hazare 50-over domestic tournament, to be played in Delhi from February 21. View More..

Updated On :
Feb 13,2018 5:10 pm
Bhubaneswar, Feb 13 (IANS) The Odisha government on Tuesday rejected the Central government's relaxation of quality norms for procurement of paddy under the Minimum Support Price (MSP) mechanism. View More..

Updated On :
Feb 12,2018 9:50 pm
Mumbai, Feb 12 (IANS) Global software major Tata Consultancy Services (TCS) on Monday said it has been ranked among the top three employers in the US by the Netherlands-based Top Employers Institute. View More..

Updated On :
Feb 09,2018 8:42 pm
Bhubaneswar, Feb 9 (IANS) Eminent litterateur and Sahitya Akademi Award recipient Chandrasekhar Rath passed away at a private hospital here on Friday. He was 89. View More..

Updated On :
Feb 07,2018 4:58 pm
Kolhapur (Maharashtra), Feb 7 (IANS) A gang of armed robbers attacked a gold trader from Mumbai and decamped with 1.30 kg of gold ornaments worth around Rs 35 lakhs, here early on Wednesday, an official said. View More..

Updated On :
Feb 05,2018 7:52 pm
Secunderabad, Feb 5 (IANS) Ranji Trophy champions Vidarbha extended their purple patch this domestic cricket season, edging past Jharkhand by seven runs in their Vijay Hazare 2018 50-overs tournament opener here on Monday. View More..

Updated On :
Feb 03,2018 4:14 pm
New Delhi, Feb 3 (IANS) India's Surya Sekhar Roy Choudhury has won a silver at the fourth edition of the International Young Chef Olympiad (YCO) 2018, an event that brought together participants under the age of 22 from 45 nations and which its mentor, Suborno Bose says could soon travel to other countries. View More..

Updated On :
Feb 02,2018 6:58 pm
Lucknow, Feb 2 (IANS) A senior IPS officer has been caught on camera endorsing, at a "public oath taking", the construction of a grand Ram Temple at Ayodhya. View More..

Updated On :
Feb 02,2018 5:52 pm
New Delhi, Feb 2 (IANS) French Ambassador Alexandre Ziegler received the first batch of the Young Architects and Urban Planners Programme, launched as part of the ongoing third edition of Bonjour India, that builds on the positive institutional exchanges between India and France over the past few years, a statement said. View More..

Updated On :
Jan 30,2018 5:32 pm
New Delhi, Jan 30 (IANS) Similar to women's fashion, men's fashion also keeps changing, but many men do not go overboard with trends and stick to their comfort while dressing. Now, they dont have to worry as 2018 brings a host of trends in mens clothing that will match up to their body type. View More..

Updated On :
Jan 27,2018 10:46 am
Hyderabad, Jan 27 (IANS) Maoists went on rampage in Telangana's Bhadradri Kothagudem district early Saturday, killing one and injuring another former guerrilla member, whom they suspected of being police informers. View More..

Updated On :
Jan 24,2018 10:10 pm
Bhubaneswar, Jan 24 (IANS) Biju Janata Dal (BJD) President Naveen Patnaik on Wednesday suspended its Kendrapara MP Baijayant Panda from the party's primary membership for alleged 'anti-party activities'. View More..

Updated On :
Jan 24,2018 9:04 pm
Kolkata, Jan 24 (IANS) Uttar Pradesh beat Baroda to stay in the hunt for a final berth along with Delhi in Group B, while Rajasthan won three out of three to fix a date with Punjab in another virtual semi-final of the Syed Mushtaq Ali T20 cricket tournament here on Wednesday. View More..

Updated On :
Jan 17,2018 3:52 pm
Mumbai, Jan 17 (IANS) Actor Rahul Kapoor, who featured in television show "Suryaputra Karn" and "Veera", is joining the Bollywood brigade with his first feature film "Vodka Diaries". He says patience is key to survival in showbiz. View More..

Updated On :
Jan 11,2018 4:40 pm
Mumbai, Jan 11 (IANS) Actor-singer and filmmaker Farhan Akhtar and director-composer Vishal Bhardwaj will headline the Delhi edition of Gaana Bollywood Music Project. View More..

Updated On :
Jan 11,2018 4:40 pm
Kolkata, Jan 11 (IANS) West Bengal Chief Minister Mamata Banerjee on Thursday said her government has made adequate arrangements to ensure security of the pilgrims visiting Sagar Island for the 'Gangasagar Mela'. View More..

Updated On :
Jan 06,2018 3:44 pm
Lucknow, Jan 6 (IANS) The Yogi Adityanath government in Uttar Pradesh faced an embarrassing situation on Saturday as quintals of potatoes were thrown by the farmers in front of the Vidhan Sabha building and outside Chief Minister's residence. View More..