Surya Biography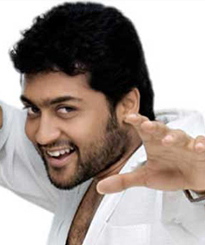 Saravanan commonly known as Surya is a successful actor in Tamil film industry. He has performed as a lead actor in over 28 films of various genres.
Surya was born to famous Tamil actor Sivakumar and his wife Lakshmi in Chennai. He is the eldest among his siblings. Surya did his schooling from St. Bede's School in Chennai and completed his B.Com from Loyola College.
He worked for few years in the garment industry before joining films. Surya started film career with NerrukkuNer, (1997) with Vijay a highly acclaimed film. He got success in "Friends" where he again acted with Vijay.
More On Kollywood
Kollywood Upcoming Movies
Kollywood Stars Biography
Kollywood Stars Latest Event Gallery
Kollywood Top 10 Songs
His film Nandha, directed by Bala rocked at box office and Surya grabbed his first filmfare award for best actor in this film.
Surya worked with Vikraman in the film UnnaiNinathu which was highly successful. This was followed by MounamPesiyadhe which also achieved box office success.
Surya acted as police officer in KaakhaKaakha that was a blockbuster.
In Perazhagan, Surya had double role, one as a boxer and the other a handicapped phone booth keeper. His role as the handicapped was highly applauded by audience and he received the Filmfare Award for Best Actor for his performance.
In 2005, Surya gave excellent performance in the super hit movies Aaru and Ghajini. Ghajini was his third hit and earned over Rs.200 million at the box office.

His acting talent was seen in Bollywood film Rakta Charitra directed by Ram Gopal Varma, a two-part political drama.
Surya has been the ambassador for TVS Motor, Aircel and Sunfeast. He has endorsed Saravana Stores, Bharathi Cements and EmamiNavaratna products and Malabar Gold. He had signed fresh deal with Nescafé, Zandu Balm and with Close-Up (toothpaste).
He is also engaged in social work. His Agaram Foundation aids children who are drop out of school. He made a short commercial video on child poverty, labour and lack of education with assistance from Tamil Nadu Education Ministry.
Suriya is also an active memember of "Save The Tigers" campaign and "REACH", a NGO helping TB patients. Surya has established a production company called Studio Green with his cousin K.E.Gnavelraja for producing and distributing a few of his own and his brother Karthi's films.
Surya is married to Jyothika Saravanan who is celebrity in Tamil industry. They have two children, a daughter and a son.
Surya Latest News
Updated On :
Jan 17,2019 5:54 pm
New Delhi, Jan 17 (IANS) The Supreme Court on Thursday asked the Lokpal search committee headed by former top court Judge Ranjana Prakash Desai to complete its deliberations for shortlisting the candidates for the appointment of Lokpal by February-end. View More..

Updated On :
Jan 13,2019 2:14 pm
Shimla, Jan 13 (IANS) The Himachal Pradesh High Court has refused to stay the transfer of forest land to an Asian Development Bank-funded hydropower project in the state's Kinnaur district being executed by the state-run Himachal Pradesh Power Corp Ltd. View More..

Updated On :
Jan 08,2019 9:38 pm
New Delhi, Jan 8 (IANS) The government on Tuesday permitted private FM channels in the country to carry All India Radio (AIR) news free of cost, and on a trial basis, till May 31. View More..

Updated On :
Jan 08,2019 10:22 am
Mumbai, Jan 8 (IANS) The makers of "Simmba" hosted a success party for their cast and crew along with film industry friends here. View More..

Updated On :
Dec 26,2018 8:30 pm
New Delhi, Dec 26 (IANS) Andhra Pradesh and Telangana will have separate high courts from January 1 with the Centre issuing orders for bifurcation of the High Court of Judicature at Hyderabad. View More..

Updated On :
Dec 26,2018 7:00 pm
Shimla, Dec 26 (IANS) The Himachal Pradesh High Court has directed the state to explore the possibility of invoking its powers to retire employees prematurely wherever they have become deadwood or liability on account of doubtful integrity. View More..

Updated On :
Dec 18,2018 9:36 pm
Bhubaneswar, Dec 18 (IANS) The opposition Congress and Bharatiya Janata Party on Tuesday promised to waive all farm loans in the state, if they are voted to power in the 2019 elections. View More..

Updated On :
Dec 18,2018 3:06 pm
Jaipur, Dec 18 (IANS) The Indian Premier League franchise Mumbai Indians (MI) on Tuesday inducted former left-arm pacer Zaheer Khan as Director of Cricket Operations. View More..

Updated On :
Dec 16,2018 4:12 pm
Kolkata, Dec 16 (IANS) Avinash Sable and L Surya kept the Indian flag fluttering while Birhanu Legese and Dibaba Kuma made an Ethiopian double in the men's and women's sections of the Tata Steel Kolkata 25 kilometres marathon here on Sunday. View More..

Updated On :
Dec 14,2018 8:02 pm
Shimla, Dec 14 (IANS) The Himachal Pradesh High Court on Friday directed the Commissioner of the Shimla Municipal Corporation to constitute a team to visit schools of the city and identify parking spaces for school vehicles. View More..

Updated On :
Dec 14,2018 5:52 pm
New Delhi, Dec 14 (IANS) Here's a reality TV show with a difference -- with women farmers taking centrestage. View More..

Updated On :
Dec 05,2018 11:42 pm
Mumbai, Dec 5 (IANS) The Maharashtra Anti-Terrorism Squad (ATSS) on Wednesday made shocking revelations of the alleged role of various Hindu organisations in the Palghar arms haul case of August this year and the subsequent unveiling of a terror plot targeting several cities and rationalists in the state. View More..

Updated On :
Dec 05,2018 5:52 pm
Pune (Maharashtra), Dec 5 (IANS) Some very rare short films and documentaries shot in 16mm featuring top politicians, artistes, singers and other prominent personalities have been discovered in a 2,200-strong collection acquired by the National Film Archives of India (NFAI), a top official said here on Wednesday. View More..

Updated On :
Dec 03,2018 11:48 am
Chennai, Dec 3 (IANS) Actress Taapsee Pannu has concluded shooting for her upcoming Tamil-Telugu bilingual film titled "Game Over" here. View More..

Updated On :
Nov 22,2018 6:28 pm
Mumbai, Nov 22 (IANS) Multi-talented personality Suchitra Krishnamoorthi, who released her new single "Sawan barse" after 18 years, says though she lost her confidence in singing, her daughter and family friends encouraged her to sing all over again. View More..

Updated On :
Nov 17,2018 5:38 pm
Lucknow, Nov 17 (IAN) Army chief General Bipin Rawat on Saturday visited the headquarters of the Central Command and the 11 Gorkha Rifles Regimental Centre at Lucknow, an official spokesman said. View More..

Updated On :
Nov 15,2018 4:40 pm
Mumbai, Nov 15 (IANS) Australia quick Pat Cummins and star Bangladesh pacer Mustafizur Rahman are among the 10 players, released by the Indian Premier League (IPL) franchise Mumbai Indians ahead of the 2019 player auction next month. View More..

Updated On :
Nov 14,2018 11:38 am
Kolkata, Nov 14 (IANS) Content with the way his classical game has shaped up in recent times, five-time world champion Viswanathan Anand is not sweating over his poor run in the rapid format and feels he has time to work on his frailties which, according to him, are out in the open. View More..

Updated On :
Nov 13,2018 9:34 pm
Kolkata, Nov 13 (IANS) World No.3 Hikaru Nakamura of the US stayed unbeaten to remain on sole pole position as five-time world champion Viswanathan Anand alongwith Pentala Harikrishna led the Indian challenge at the end of day one of the Tata Steel Chess India 2018 Blitz tournament here on Tuesday. View More..

Updated On :
Nov 13,2018 8:42 pm
Kolkata, Nov 13 (IANS) Five-time world champion Viswanathan Anand is not happy with the constant zigzagging of formats, saying that he finds it 'unhelpful'. View More..