Sneha Biography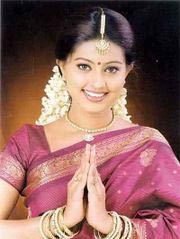 Sneha alias Suhasiniis is a charming heroine of Southern Indian film industry. The peculiar thing about her is she looks gorgeous even when she performs without makeup.
Sneha was born on 12 October 1981 in Mumbai and brought up in Dubai. She was noticed in a cultural show in Dubai by Malayalam film director Fazil.
So she made debut in Malayalam film 'Engane Oru Nila Pakshi' opposite Kunjako Boban in 2000. Even though this film failed at box office Snha was noticed by directors of Tamil and Telugu industries.
More On Kollywood
Kollywood Upcoming Movies
Kollywood Stars Biography
Kollywood Stars Latest Event Gallery
Kollywood Top 10 Songs
She immediately got offer in Susi Ganesan's 'Virumbigiren' released in 2001, where she acted opposite to Prashanth. Then she acted in 'Ennavale' (2001) with Madhavan and this was her commercially hit film.
She worked in Lingusamy directed 'Aanandam' that was highly praised by the audience. She came in limelight with films such as 'PunnagaiDesam' and 'Pammal K Sambandam' (2002).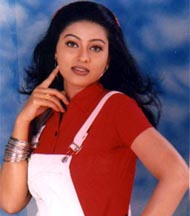 But her films 'Paarthale Paravasam', 'Yeh Nee Romba Azhaga Irrukey' and 'King' did not do well. Her fortunes turned around in the same year in 'April Maadhathil', which was a super hit film.
In 2004, she gave three hits 'Jana', 'Vasool Raja MBBS' and 'Autograph'. In 2005, she did two films 'Chinna' and 'ABCD'. She had a complicated role in 'Chinna' but her performance as a widow in 'ABCD' was praised.
Sneha grabbed two Filmfare Awards for Best Supporting Actress for her performances in Unnai Ninaithu (2002) and Autograph (2004). She was nominated thrice for Filmfare Best Actress Award.
She has also received the Tamil Nadu State Film Award for Best Actress twice; for Virumbugiren, Aanandham, Punnagai Desam in 2001 and for Pirivom Santhippom in 2008. She was honoured with a Nandi Award for her Telugu film Radha Gopalam (2005) and the Kalaimamani award in 2004.
Sneha is also involved in health promotion programs. In 2011, she promoted polio eradication programme organised by the Pondicherry Rotary Club.
On May 11, 2012, Sneha got married to her boy friend Prasanna.
Sneha Latest News
Updated On :
Oct 17,2016 1:50 pm
-- Rudal Shah, arrested in 1953, remained in Bihar's Muzaffarpur jail for 30 years despite being acquitted in 1968. View More..

Updated On :
Oct 10,2016 9:44 pm
Mumbai, Oct 10 (IANS) A Mumbai square was named after the legendary ghazal singer and composer, the late Jagjit Singh, on the occasion of his fifth death anniversary here on Monday, an official said. View More..

Updated On :
Sep 28,2016 2:08 pm
Of 5 million malnourished children under five in Bihar, no more than 0.3 per cent, or one in 340 -- at best -- can be treated at the state's 38 nutrition rehabilitation centres (NRCs), the first line of primary care against a condition that can permanently inhibit future potential in a region with India's youngest population. View More..

Updated On :
Sep 19,2016 10:00 pm
Kolkata Sep 19 (IANS) The Cricket Association of Bengal (CAB) is mulling naming seven Eden Gardens' stands after eminent personalities involved with the game in the state like former India captain Sourav Ganguly and late cricket administrator Jagmohan Dalmiya, an official said here on Monday. View More..

Updated On :
Sep 19,2016 4:30 pm
New Delhi, Sep 19 (IANS) A 20-year-old soldier injured in the Uri terror attack died of injuries in a Delhi hospital on Monday, taking the toll to 18, officials said. View More..

Updated On :
Aug 31,2016 6:24 pm
Pune, Aug 31 (IANS) Four participants from Maharashtra have been selected for the Indian contingent for the forthcoming 17th Asia Junior Judo Championship. View More..

Updated On :
Aug 24,2016 11:12 am
Chennai, Aug 24 (IANS) Tamil film actor Arya, who has so far played cameo roles in Malayalam films such as "Urumi" and "Double Barrel", will be essaying a full-length antagonist's role in upcoming "The Great Father" in the language. View More..

Updated On :
Aug 22,2016 8:06 pm
Mumbai, Aug 22 (IANS) Railway Minister Suresh Prabhu here on Monday inaugurated a free high-speed wi-fi internet facility for railway commuters at eight stations in Mumbai and Thane. View More..

Updated On :
Aug 15,2016 6:16 pm
Mumbai, Aug 15 (IANS) On the occasion of the 70th Independence Day, Maharashtra launched the country's first comprehensive 'Crime Criminal Tracking Network System' through 42 cyber labs inaugurated simultaneously here on Monday. View More..

Updated On :
Aug 15,2016 1:50 pm
Mumbai, Aug 15 (IANS) Maharashtra celebrated the 70th Independence Day on Monday with joy and patriotic fervour. View More..

Updated On :
Jul 29,2016 8:02 pm
Coimbatore, July 29 (IANS) The national racing championship will get underway at the Kari Motor Speedway here on Saturday. View More..

Updated On :
Jul 21,2016 11:16 am
Chennai, July 21 (IANS) Telugu star Allu Arjun and his wife Sneha Reddy, who have been married for five years, are expecting their second child. The couple already have a son named Ayaan. View More..

Updated On :
Jul 13,2016 9:28 pm
Mumbai, July 13 (IANS) Mumbai Mayor Snehal Ambekar dedicated a prominent square in Hiranandani Gardens, Powai, in memory of slain veteran journalist Jyotirmoy Dey on Wednesday. View More..

Updated On :
Jul 09,2016 4:40 pm
Mumbai, July 9 (IANS) A busy square in Hiranandani Gardens, Powai will be named after the slain veteran journalist Jyotirmoy Dey, who was shot dead there on June 11, 2011. View More..

Updated On :
Jul 01,2016 5:38 pm
New Delhi, July 1 (IANS) Senior Indian basketball official Naresh Aneja was on Friday nominated to be one of eight jury members who will represent International Basketball Federation (FIBA) at the Rio Olympics scheduled between August 5 to 21. View More..

Updated On :
Jun 24,2016 6:26 pm
Mumbai, June 24 (IANS) The BJP-Shiv Sena ties hit a new low on Friday after both sides invoked the names of known Bollywood characters, villains and comedicians to publicly abuse each other. View More..

Updated On :
Jun 02,2016 12:16 pm
New Delhi, June 2 (IANS) Swati Bisht, a mother of two girls - Sneha, 9, and Sakshi, 6 - was never a shopaholic until her two daughters pushed her to the local mall. Even at this tender age, Sneha and Sakshi are so brand conscious that they are the guiding force behind their parents' shopping decisions. View More..

Updated On :
May 27,2016 9:14 pm
Thane (Maharashta), May 27 (IANS) The toll in the boiler blast in a chemicals factory here rose to 10 on Friday including three relations of the owners even as charges of culpable homicide not amounting to murder were slapped on them, a police official said. View More..

Updated On :
Apr 22,2016 8:54 am
New Delhi, April 22 (IANS) Flick through an exciting school romance, the difficult love affair of a ballerina, the struggle of a girl dealing with the gravitational force of her attraction to a man and a compendium of great power and beauty. There's varied fare on the IANS bookshelf this weekend. View More..

Updated On :
Apr 06,2016 4:54 pm
New Delhi, April 6 (IANS) She has worked with Shah Rukh Khan and Aamir Khan and will soon be seen sharing screen space with Salman Khan in "Sultan". Actress Anushka Sharma says working with Bollywood's three Khans is a "unique and fun" as well as learning experience. View More..