Sneha Biography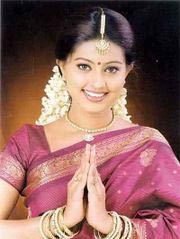 Sneha alias Suhasiniis is a charming heroine of Southern Indian film industry. The peculiar thing about her is she looks gorgeous even when she performs without makeup.
Sneha was born on 12 October 1981 in Mumbai and brought up in Dubai. She was noticed in a cultural show in Dubai by Malayalam film director Fazil.
So she made debut in Malayalam film 'Engane Oru Nila Pakshi' opposite Kunjako Boban in 2000. Even though this film failed at box office Snha was noticed by directors of Tamil and Telugu industries.
More On Kollywood
Kollywood Upcoming Movies
Kollywood Stars Biography
Kollywood Stars Latest Event Gallery
Kollywood Top 10 Songs
She immediately got offer in Susi Ganesan's 'Virumbigiren' released in 2001, where she acted opposite to Prashanth. Then she acted in 'Ennavale' (2001) with Madhavan and this was her commercially hit film.
She worked in Lingusamy directed 'Aanandam' that was highly praised by the audience. She came in limelight with films such as 'PunnagaiDesam' and 'Pammal K Sambandam' (2002).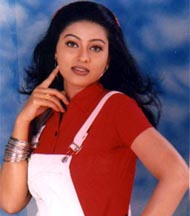 But her films 'Paarthale Paravasam', 'Yeh Nee Romba Azhaga Irrukey' and 'King' did not do well. Her fortunes turned around in the same year in 'April Maadhathil', which was a super hit film.
In 2004, she gave three hits 'Jana', 'Vasool Raja MBBS' and 'Autograph'. In 2005, she did two films 'Chinna' and 'ABCD'. She had a complicated role in 'Chinna' but her performance as a widow in 'ABCD' was praised.
Sneha grabbed two Filmfare Awards for Best Supporting Actress for her performances in Unnai Ninaithu (2002) and Autograph (2004). She was nominated thrice for Filmfare Best Actress Award.
She has also received the Tamil Nadu State Film Award for Best Actress twice; for Virumbugiren, Aanandham, Punnagai Desam in 2001 and for Pirivom Santhippom in 2008. She was honoured with a Nandi Award for her Telugu film Radha Gopalam (2005) and the Kalaimamani award in 2004.
Sneha is also involved in health promotion programs. In 2011, she promoted polio eradication programme organised by the Pondicherry Rotary Club.
On May 11, 2012, Sneha got married to her boy friend Prasanna.
Sneha Latest News
Updated On :
Oct 15,2017 3:56 pm
Mumbai, Oct 15 (IANS) Actor Sharad Kelkar, who has turned producer with Marathi film "Idak", says his passion has always been acting and he doesnt consider himself a producer in the true sense. View More..

Updated On :
Oct 12,2017 10:42 am
Hyderabad, Oct 12 (IANS) A team of five students from an engineering college in Telangana has been selected for the prestigious NASA Human Exploration Rover Challenge. View More..

Updated On :
Oct 04,2017 10:50 am
Varanasi, Oct 4 (IANS) A Chinese couple was held here for flying a drone equipped with a high definition camera during the famous Ganga Aarti but was let off after a probe, police said on Wednesday. View More..

Updated On :
Oct 01,2017 10:20 pm
Kolkata, Oct 1 (IANS) The mutilated body of a 25-year-old local footballer was found from the railway tracks near Serampore railway station in West Bengal's Hooghly district, a police officer said pm Sunday. View More..

Updated On :
Sep 21,2017 11:36 am
Kolkata/Siliguri, Sep 21 (IANS) From goddess Durga draped in traditional Nepali attire for the grand celebration of Dasain, to the resplendent White Temple of Thailand to glimpses of London and the US -- Durga Puja in West Bengal is not only a showcase of the state's artistic heritage but has also evolved into a platform of its cross-cultural and trans-boundary influences. View More..

Updated On :
Sep 09,2017 6:16 pm
Bhubaneswar, Sep 9 (IANS) Union Petroleum Minister Dharmendra Pradhan on Saturday inaugurated a five-day-long exhibition-cum-seminar on 'New India-We Resolve To Make' here to commemorate the 75 years of the Quit India Movement and the forthcoming 75 years of Independence in 2022. View More..

Updated On :
Sep 06,2017 10:38 am
Chennai, Sep 6 (IANS) Former Indian cricketer Snehal Pradhan, who has played five One- Day Internationals for India, has come forward to offer her expertise for an upcoming yet-untitled Tamil film on women's cricket. View More..

Updated On :
Aug 28,2017 4:58 pm
New Delhi, Aug 28 (IANS) The work wear trend for women today is bending a lot towards floral miniatures in bold colours, and interesting capes and jackets too, say experts. View More..

Updated On :
Aug 22,2017 8:10 pm
New Delhi, Aug 22 (IANS) India's Junior top ranked player Maisnam Meiraba and the Junior World No. 1 Lakshya Sen will lead the countrys challenge in the Badminton Asia Under-17 and Under-15 Championships in Myanmar from October 4 and the BWF World Junior Championships in Jakarta from October 9 respectively, it was announced on Tuesday. View More..

Updated On :
Aug 08,2017 11:32 am
Chennai, Aug 8 (IANS) The second poster of Sivakarthikeyan starrer Tamil action drama "Velaikkaran" was released on Tuesday on the occasion of actor Fahadh Faasil's birthday. View More..

Updated On :
Jul 31,2017 8:24 pm
Chennai, July 31 (IANS) Telugu star Allu Arjun on Monday shared a picture with his daughter Arha, whom he described as the angel of his life, on Twitter and within minutes, the picture went viral with over thousand retweets. View More..

Updated On :
Jul 30,2017 11:02 am
Chennai, July 30 (IANS) Producer Muniratna has pulled off a casting coup by putting together upcoming epic drama "Kurukshetra", which is slated to be officially launched on August 6 and could be Kannada cinema's biggest multi-starrer. View More..

Updated On :
Jul 24,2017 7:22 pm
Mumbai, July 24 (IANS) Actor- filmmaker Shreyas Talpade says he wanted the "Ghayal" star Sunny Deol to play a role in "Poster Boys" to add credibility to the film, which has a "little sensitive subject". View More..

Updated On :
Jul 10,2017 1:08 pm
The number of rapes reported each year in Delhi has more than tripled over the last five years, registering an increase of 277 per cent from 572 in 2011 to 2,155 in 2016, according to data released recently by the Delhi Police. View More..

Updated On :
Jul 06,2017 4:42 pm
Coimbatore, July 6 (IANS) Defending champion Anindith Reddy will be the favourite when the Indian racer competes at the 20th JK Tyre-FMSCI National Racing Championship at the Kari Motor Speedway here from Friday. View More..

Updated On :
Jun 18,2017 1:08 pm
Ahmednagar (Maharashtra), June 18 (IANS) A four-member family of an ex-soldier was found brutally murdered in Shevgaon village of Ahmednagar in Maharashtra on Sunday morning, police said. View More..

Updated On :
Jun 08,2017 5:54 pm
Kolkata, June 8 (IANS) Riding on its success in reaching out to more than 400 million viewers, the two-season-old Indian show "Main Kuch Bhi Kar Sakti Hoon" ("I, a woman, can achieve anything" or MKBKSH), which challenges patriarchal attitudes and gender discrimination, is set to bring stories from the field onto digital media through a web series. View More..

Updated On :
Jun 08,2017 5:48 pm
Mumbai, June 8 (IANS) Actress Kritika Kamra says the makers of fantasy drama TV show "Prem Ya Paheli Chandrakanta" have never had to use a duplicate because of her unavailability. View More..

Updated On :
Jun 03,2017 2:02 pm
Film: "Hanuman Da Damdaar"; Director: Ruchi Narain; Cast: Salman Khan, Raveena Tandon, Kunal Khemu, Javed Akhtar, Chunky Pandey, Saurabh Shukla, Makrand Despande, Vinay Pathak, Sneha Khanwalkar, Hussain Dalal; Rating: *1/2 View More..

Updated On :
Jun 02,2017 7:10 pm
Film: "Mirror Game: Ab Khel Shuru"; Writer-Director: Vijit Sharma; Cast: Parvin Dabas, Dhruv Bali, Omi Vaidya and Pooja Batra; Rating: *1/2 View More..