Ranbir Kapoor Biography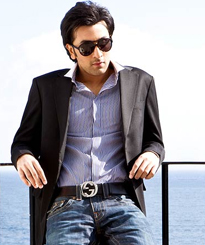 Ranbir Kapoor is a young rising star of Bollywood. He is a son of famous Indian actor Rishi Kapoor and charming actress of her time, Neetu Singh. He has a sister Riddhima Kapoor Sahni.
He completed schooling from Bombay Scottish School in Mahim, Mumbai and then joined training program in acting in 'The Lee Strasberg Theatre' and Film Institute. He has backing of his parents that has made him superstar. He is one of the favourite stars of youngsters these days.
With great hard work and dedication, Ranbir Kapoor has won the heart of millions of fans around the world. He gave marvellous performance as a tragic hero in Rock star and his performance really rocked the Bollywood.
His most popular and award winning film "Barfi" produced by Anurag Basu made him a superstar. In this movie he played as a deaf & dumb boy. It was super hit film and Ranbir left distinct image among his fans with this movie.
More On Bollywood
Bollywood Upcoming Movies
Bollywood Stars Biography
Bollywood Stars Latest Event Gallery
Bollywood Top 10 Songs
He worked as an assistant of Sanjay Leela Bhansali in the movie Black but he made his grand entry into films with the film Saawariya released in 2007. Here he played a romantic character. This film did not do well at the box-office, but Ranbir was praised by the audience. Critics and viewers accepted him as an emerging hero of Bollywood.
After that his journey in Bollywood was smooth. In the year 2009, he played the lead role in the movie "Wake up Sid." He got immense popularity with this film. The movie was a box-office hit and Ranbir was nominated as a best Actor in various award functions.
His next film was Ajab Prem Ki Ghazab Kahani that was again hit at the box office. In his next film Rocket Singh, Ranbir played the role of a salesman, but it was not a successful film.
After a fall in his filmy career graph, Ranbir rose up to give another blockbuster Rajneeti in the year 2010. With this film, he became famous for his acting talent.
He was seen in Anjaana Anjaani, in which he worked with Priyanka Chopra. These cute couple were liked by the audience very well.
After that he paired with Deepika Padukone in 'Bachna Ae Haseeno'. Together they gave blockbuster "Yeh Jawani Hai Deewani' in mid 2013. This film was based on youth romance and viewers enjoyed it much. This film made record success in United Kingdom and New Zealand. Though critics gave mixed comments, it collected huge revenue on the first day of its release. This film became the gateway of success for Ranbir Kapoor.
Ranbir has made good entry in Bollywood and he is also internationally recognized. After release of Yeh Jawani Hai Deewani, he became famous among global audience. He is enjoying good reputation at the global box-office and at the international level his demand is increasing.
His movie Besharam which released in late 2013, received negative reviews. Besharam also starred his parents Rishi Kapoor and Neetu Singh. After Besharam he did not have any new releases but was seen in a guest appearance in Aamir Khan and Anushka Sharma starrer PK.
Ranbir has six new projects in his kitty, among the six films his first release is Roy where is starrer opposite Jacqueline Fernandez for first time. Roy also stars Arjun Rampal and is a romantic thriller scheduled to release in February 2015.
Ranbir's next five upcoming films are Bombay Velvet, here he is paired opposite Anushka Sharma and is scheduled for release in May 2015. Jagga Jasoos opposite actress Katrina Kaif and is scheduled for release in August 2015. Tamasha opposite actress Deepika Padukone which is under production and scheduled for release in December 2015. Ae Dil Hai Mushkil opposite actress Anushka Sharma for the second time and actress Aishwarya Rai will also be part of this project. Ranbir Kapoor will also star opposite Alia Bhatt in director Ayan Mukherjee's next untitled project
Ranbir Kapoor Latest News
Updated On :
Mar 23,2018 6:14 pm
Mumbai, March 23 (IANS) Pakistani actress Mahira Khan says she felt "violated" when images of her sharing a cigarette with Indian actor Ranbir Kapoor emerged in the media. View More..

Updated On :
Mar 15,2018 2:08 pm
Mumbai, March 15 (IANS) Filmmaker Rajkumar Hirani, who is busy with the post-production process of his upcoming biopic on actor Sanjay Dutt, says biopics are more interesting when presented in a fictional format. View More..

Updated On :
Jan 23,2018 5:02 pm
Mumbai, Jan 23 (IANS) Work keeps him on his toes -- time irrespective. Megastar Amitabh Bachchan says he finished recording a song early dawn after attending a wedding. View More..

Updated On :
Jan 05,2018 1:16 pm
Mumbai, Jan 5 (IANS) For those awaiting to see how Ranbir Kapoor brings alive the story of Sanjay Dutt on the big screen, the wait has become a little longer. The biopic on the "Khalnayak" star will now release on June 29 instead of March 30. View More..

Updated On :
Jan 04,2018 3:02 pm
New Delhi, Jan 4 (IANS) Actress-producer Dia Mirza is excited to work on Rajkumar Hirani's yet untitled Sanjay Dutt biopic, but doesnt want to take stress by thinking how it will take her "career as an actor in a new direction". View More..

Updated On :
Jan 02,2018 4:46 pm
Mumbai, Jan 2 (IANS) Like every year, a lot of films are ready to hit the screens in 2018. So, know where to put your money. View More..

Updated On :
Jan 01,2018 6:30 pm
Mumbai, Jan 1 (IANS) From Nawazuddin Siddiqui in "Manto" to Akshay Kumar in "Padman" -- the New Year is likely to give Bollywood some whistle-worthy characters. View More..

Updated On :
Dec 24,2017 3:16 pm
Mumbai, Dec 24 (IANS) Vijay Anil Ganguly, who choreographed "Galti se mistake" -- a song from the Ranbir Kapoor starrer "Jagga Jasoos", says he wanted to be a filmmaker like his father Anil Ganguly. View More..

Updated On :
Dec 22,2017 12:54 pm
New Delhi, Dec 22 (IANS) Big names, extravagant budgets, picturesque locales and brilliant promotions -- and yet, insufficient box office collections. The Year 2017 has been a mixed bag for stars like Shah Rukh Khan, Salman Khan, Kangana Ranaut and Ranbir Kapoor. View More..

Updated On :
Dec 20,2017 3:50 pm
New Delhi, Dec 20 (IANS) India and Austria are equally and differently beautiful with a lot to offer then what is stereotyped, and we intend to intensify our efforts to spread this information, says Austrian Ambassador to India Brigitte Öppinger-Walchshofer. View More..

Updated On :
Dec 20,2017 3:04 pm
New Delhi, Dec 20 (IANS) After giving tracks in films like "Rockstar" sufi band Nizami Bandhu's next Bollywood venture is "Azamgarh", informs Chand Nizami. View More..

Updated On :
Dec 12,2017 3:04 pm
Mumbai, Dec 12 (IANS) Mumbai City Football Club will become the first team in the Hero Indian Super League (ISL) to have a dedicated section for away fans during its home matches at the Mumbai Football Arena here. View More..

Updated On :
Dec 11,2017 12:34 pm
New Delhi, Dec 11 (IANS) It is 8 pm on a chilly Thursday and the winter wind is howling outside. Yet there is hardly any space for latecomers on the cold marble floors inside the Hazrat Nizamuddin Auliya Dargah, where the stage is set for the Nizami Bandhu to render their soulful melodies. View More..

Updated On :
Nov 20,2017 1:36 pm
Mumbai, Nov 20 (IANS) Film director Raja Krishna Menon finds Ranbir Kapoor to be an "interesting actor", but says he hasn't signed him or anyone yet for his next thriller drama. View More..

Updated On :
Nov 18,2017 7:10 pm
Mumbai, Nov 18 (IANS) Last year's Indian Super League (ISL) semi-finalists Mumbai City FC on Saturday announced their association with Infinix Mobile. View More..

Updated On :
Nov 09,2017 7:02 pm
Mumbai, Nov 9 (IANS) Bollywood actress Kriti Kharbanda, who shares screen space with Rajkummar Rao in the upcoming film "Shaadi Mein Zaroor Aana", says though she wants, she cannot indulge in the idea of a "woman-centric film" right now. View More..

Updated On :
Nov 04,2017 12:06 am
Film: "Ittefaq"; Cast: Akshaye Khanna,Sidharth Malhotra, Sonakshi Sinha; Director: Abhay Chopra; Rating: * 1/2 (one and a half stars) View More..

Updated On :
Nov 03,2017 9:06 pm
Mumbai, Nov 3 (IANS) Ahead of the Indian Super League (ISL) season four starting November 17, Mumbai City FC on Friday joined hands with OkSir, one of Indias most advanced app-based service aggregators, to reach out to their fans in a seamless manner. View More..

Updated On :
Oct 13,2017 9:16 am
Mumbai, Oct 13 (IANS) Director Ayan Mukerji is all excited for one of his most ambitious project "Brahmastra" and hopes the film becomes "the biggest success of his career as well as of the film industry". View More..

Updated On :
Oct 11,2017 6:36 pm
Mumbai, Oct 11 (IANS) On Amitabh Bachchan's 75th birthday on Wednesday, filmmaker Karan Johar announced that he is collaborating with the megastar and actors Ranbir Kapoor and Alia Bhatt for a fantasy adventure trilogy called "Brahmastra". Its first part will release on Independence Day, 2019. View More..