Preity Zinta Biography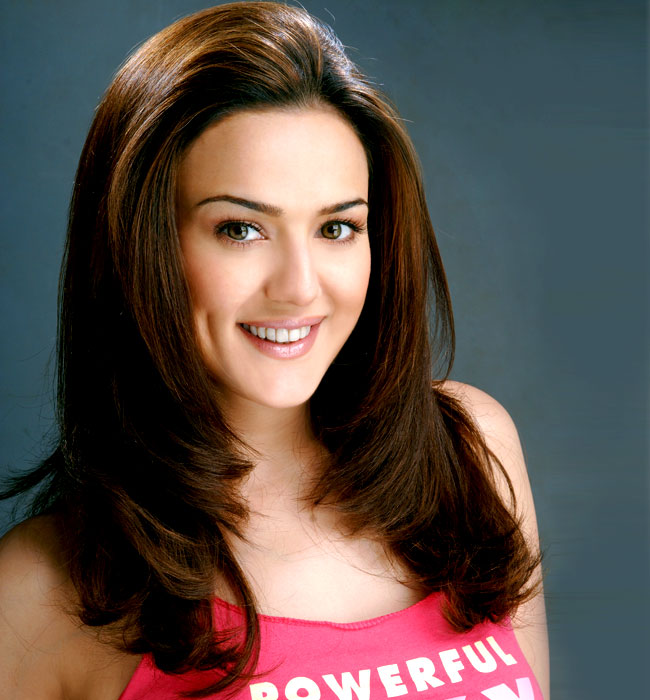 PreityZinta is pretty and charming heroine of Bollywood. Her ever smiling dimples on her cheeks add beauty to her face and grabs attention of millions of viewers in India and abroad.
Preity Zinta was born on 31 January 1975 at Rohru in Simla district. Her father was Late Durganand Zinta, an Army Officer, and mother Nilprabha Zinta. She has two brothers.
Preity Zinta attended the St Bede's College in Shimla and has a degree in English honours. She then took post graduation in criminal psychology. After that, she perused career in modelling. Her first television commercial was for Perk chocolates. With the commercial of Liril, she became popular.
Preity Zinta made her acting forays into Hindi films, with Dil Se in 1998. Her next film was Soldier where she was seen in the lead role. She bagged Filmfare Best Female Debut Award for this movie.
More On Bollywood
Bollywood Upcoming Movies
Bollywood Stars Biography
Bollywood Stars Latest Event Gallery
Bollywood Top 10 Songs
In Kya Kehna, released in 2000, Zinta acted as teenage single mother. Her brilliant performance in many other films transformed her image to top-notch heroines of Bollywood.
She also won first Filmfare Best Actress Award in 2003 for her superb role in Kal Ho Naa Ho. She played the lead role in most commercially successful films like Koi Mil Gaya and Veer-Zaara, Salaam Namaste and Kabhi Alvida Naa Kehna. These films were super hit at box office and highly popular in the overseas markets as well.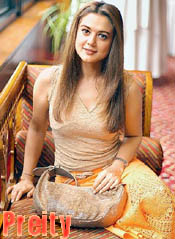 Preity Zinta played an important role in international Canadian film 'Heaven on Earth' and earned the Silver Hugo Award for Best Actress at the Chicago International Film Festival in 2008.
So far, Preity Zinta has grabbed 19 Indian film awards, 3 International Awards and 11 other awards. She is also the first beneficiary of Godfrey's Mind of Steel Award for her courageous role against the Mumbai Underworld.
Other than film career, Preity is also involved in social work. She has also written columns for BBC News Online South Asia. She has done several stage performances and anchored television shows.
She has great interest in cricket and co-owns IPL cricket team Kings XI Punjab with her ex-beau businessman Ness Wadia.
Preity Zinta has worked hard to establish her name in Hindi Cinema. Besides acting in Hindi films, she has done roles in Telugu, Punjabi and English films. Her upcoming movies are Happy Ending, and Helloo India.
Preity Zinta Latest News
Updated On :
Sep 08,2017 6:06 pm
Cape Town, Sep 8 (IANS) Bollywood actress Preity Zinta was on Friday confirmed as the owner of the Stellenbosch franchise in South Africa's T20 Global League cricket tournament. View More..

Updated On :
Aug 21,2017 12:12 pm
Mumbai, Aug 21 (IANS) Ace designer Manish Malhotra, who started out as a costume designer in films and has now clocked 27 years in the field, says he never imagined that one day his business of fashion and his creativeness towards his label, will take over his film career. View More..

Updated On :
Aug 19,2017 12:08 am
Mumbai, Aug 19 (IANS) Bollywood actress Preity Zinta turned showstopper for designer duo Shane and Falguni Peacock in an off-shoulder floor-length smoky grey gown with exquisite emerald earrings that made her look like royalty. View More..

Updated On :
Aug 15,2017 5:38 pm
New Delhi, Aug 15 (IANS) Social media on Tuesday was flooded with greetings and congratulatory messages on the occasion of the country's 71st Independence Day, with Google celebrating the day with a beautiful doodle. View More..

Updated On :
Jul 26,2017 2:48 pm
Mumbai, July 26 (IANS) A string of Bollywood celebrities, including Abhishek Bachchan, Juhi Chawla and Raveena Tandon, on Wednesday paid tributes to Indian soldiers and martyrs on the occasion of Kargil Vijay Diwas. View More..

Updated On :
Jul 12,2017 12:20 pm
New York, July 12 (IANS) At a time when Hollywood is incubating diverse talent like never before, Bollywood is out to mesmerise the US with its magic at the three-day IIFA Weekend and Awards starting here on Thursday. View More..

Updated On :
Jun 25,2017 12:30 am
Mumbai, June 25 (IANS) Bollywood's two biggest superstars Shah Rukh Khan and Salman Khan attended Congress leader Baba Siddique's Iftar party here on Saturday evening. View More..

Updated On :
Jun 23,2017 1:48 pm
Mumbai, June 23 (IANS) Salman Khans "Tubelight" might be getting a mixed response from the critics, but it has left celebrities like Preity Zinta, Dia Mirza and Subhash Ghai in awe of it. They feel the heart-warming performances in the Kabir Khan directorial light up the films narrative. View More..

Updated On :
Jun 20,2017 4:48 pm
Mumbai, June 20 (IANS) Actress Preity Zinta says she is excited for her "new beginnings" on executing her women's safety project. View More..

Updated On :
Jun 16,2017 3:58 pm
Mumbai, June 16 (IANS) Bollywood actress Preity Zinta has revealed she is coming up with her own make-up line. View More..

Updated On :
May 06,2017 1:08 pm
Kolkata, May 6 (IANS) Bowling all-rounder Axar Patel wants to make the most of his Indian Premier (IPL) form for Kings XI Punjab, to reinforce his way into the national side for the upcoming ICC Champions Trophy next month in England. View More..

Updated On :
Apr 12,2017 6:32 pm
Kolkata, April 12 (IANS) Kings XI Punjab wicketkeeper Wriddhiman Saha on Wednesday said the free atmosphere in the dressing room has helped the team start this year's Indian Premier League (IPL) campaign with two wins on the trot, comparing the current campaign to the 2014 one where they lost to Kolkata Knight Riders (KKR) in the final. View More..

Updated On :
Apr 03,2017 11:34 am
Kolkata, April 3 (IANS) Nine years since cricket decided to marry entertainment and name their offspring IPL (Indian Premier League), the Twenty20 mega show has waltzed to the tune of uncharted success, while simultaneously surviving many a slip -- bitter Board of Control for Cricket in India (BCCI) infighting, judiciary-induced changes in the sport's administration -- as also dark episodes that shamed the gentleman's game. View More..

Updated On :
Mar 13,2017 11:32 am
Mumbai, March 13 (IANS) Bollywood actors including Amitabh Bachchan, Anushka Sharma and Sonakshi Sinha on Monday sent Holi wishes to their fans, urging them to enjoy a safe and happy festival of colours. View More..

Updated On :
Mar 05,2017 5:06 pm
Mumbai, March 5 (IANS) Bollywood's celebrated filmmaker Karan Johar on Sunday announced he feels "enormously blessed" to have become a father to twins via surrogacy. Celebrities like actress Priyanka Chopra and choreographer-filmmaker Farah Khan congratulated him on the "happy" news. View More..

Updated On :
Mar 03,2017 8:38 pm
Film: "Commando 2: The Black Money Trail"; Cast: Vidyut Jammwal, Freddy Daruwala, Adah Sharma and Esha Gupta; Director: Deven Bhojani; Rating: **** View More..

Updated On :
Feb 12,2017 4:14 pm
New Delhi, Feb 12 (IANS) Manish Malhotra, who has been credited with setting many fashion trends via Bollywood films, has been invited to share his design journey at the 2017 edition of the India Conference at Harvard Business School. The designer says he is humbled and blessed to be given this opportunity. View More..

Updated On :
Feb 11,2017 2:46 pm
Mumbai, Feb 11 (IANS) Buoyed by the success of Hrithik Roshan starrer "Kaabil", director Sanjay Gupta has already begun writing a new film. View More..

Updated On :
Feb 02,2017 8:14 pm
Mumbai, Feb 2 (IANS) Lauded for her roles in films like "Dil Se..", "Kal Ho Naa Ho", "Veer-Zaara", "Salaam Namaste", Preity Zinta had decided not to continue her journey in the Hindi film industry after her marriage to Gene Goodenough. But the actress says her husband pushed her back into doing films. View More..

Updated On :
Jan 13,2017 1:12 pm
Mumbai, Jan 13 (IANS) Bollywood celebrities like Ashutosh Gowariker, Irrfan Khan and Preity Zinta have praised actress Deepika Padukone for her "confident" debut in Hollywood with the action film "xXx: Return of Xander Cage". View More..