Kareena Kapoor Biography
Name: Kareena Kapoor
Nickname: Bebo
Date of Birth: 21, September 1980
Zodiac Sign: Virgo
Height: 5' 4" (1.63 m)
Debut Movie: Refugee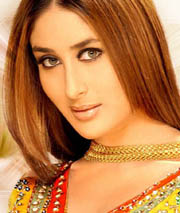 Kareena Kapoor has glamorous look and she is most attractive and successful star in the Bollywood. She belongs to high profile family and acting talent run in her family.
Kareena is the younger daughter of Randhir Kapoor and Babita who were famous actors of their time. She has one elder sister Karisma who too gained fame in the field of acting.
Regarding her educational background, Kareena completed schooling from Jamnabai Narsee School in Mumbai but later on shifted to Welham Girl's Boarding School in Dehradun.
She holds degree in Higher Education with Commerce Stream from Mithibai College, Juhu in Mumbai and then shifted to Harvard where she took admission in Microcomputers and Information Technology.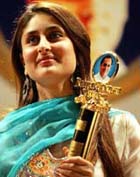 After education, Kareena chose acting as career and attended Kishore Namit Kapoor acting School.
Kareena Kapoor made her acting first appearance with film 'Refugee' but this film did not shaped her acting career. After that she played an important role in Karan Johar's blockbuster 'Kabhi Kushi Kabhi Gham' that gave her applause and business success.
More On Bollywood
Bollywood Upcoming Movies
Bollywood Stars Biography
Bollywood Stars Latest Event Gallery
Bollywood Top 10 Songs
She was also seen in the movie 'Ashoka' with SRK in 2001. Her acting was highly appreciated in these two films and she generated huge fans.
Kareena received her second compliments for her good acting in the film 'Chameli' which was released in 2004. In this movie she played a role of a prostitute and got Filmfare Special Performance Award.
Another hit movie of Kareena gave was 'Jab We Met' in which she worked with Shahid Kapoor and her acting was marvellous. Both actors were centre of attraction at that time and media highlighted their close relationships.
Later on Karena became close to famous Bollywood star Saif Ali Khan and worked together in the movie 'Omkara' which was another blockbuster.
She also proved herself as most beautiful and stunning heroine in films such as Don, Heroine, Bodyguard, 3-Idiots and Golmaal-3, Bodyguard etc.
In all these movies, Kareena's acting was applauded and these films were huge commercial success. Bodyguard earned approximately 82 crore in just five days, making it a gargantuan hit.
In September 2013, her film Satyagrah was released in which she acted as journalist, where her acting was much appreciated. Kareena Kapoor and Saif Ali Khan had affair for many years and finally they tied knot and are the most passionate couples of Bollywood.
After marriage, Kareena's life has not changed and she continues to follow her acting career.
Kareena Kapoor Latest News
Updated On :
Dec 13,2017 11:06 am
Mumbai, Dec 13 (IANS) Actor Kareena Kapoor Khan has described her sister-in-law Soha Ali Khan as a solid woman. View More..

Updated On :
Dec 11,2017 3:56 pm
New Delhi, Dec 11 (IANS) Actress Malaika Arora says that she has been brought up in a household where she was always taught to express herself freely and this is what she expects from others too. View More..

Updated On :
Dec 11,2017 3:38 pm
Mumbai, Dec 11 (IANS) Bollywood celebrities like Kareena Kapoor Khan, Alia Bhatt and Taapsee Pannu denounced the alleged molestation involving a teenage actress as "sad and shameful". View More..

Updated On :
Dec 11,2017 12:12 pm
Mumbai, Dec 11 (IANS) Actress Kareena Kapoor Khan says women are capable of fighting out of every situation in life. View More..

Updated On :
Dec 07,2017 3:48 pm
Mumbai, Dec 7 (IANS) "She's woken up," Soha Ali Khan exclaimed before she hung up to attend to her newfound world of motherhood. Happy balancing it with what she calls her "moderately famous" public life, she says she always knew she had "impossibly large shoes to fill" with her "small feet". View More..

Updated On :
Dec 05,2017 11:20 am
Mumbai, Dec 5 (IANS) Veteran actor Shashi Kapoor, who passed away at a city hospital here a day ago, will be cremated on Tuesday amid rains and cold as Cyclone Ockhi lashes the city's shores. View More..

Updated On :
Dec 03,2017 3:32 pm
New Delhi, Dec 3 (IANS) Winter is all about wearability and comfort, but don't make it an excuse to let go of the style quotient. Break away from conventional silhouettes and experiment with versatile trends like embroidered capes or structured peplums to beat the chill, say fashion gurus. View More..

Updated On :
Dec 02,2017 3:18 pm
Mumbai, Dec 2 (IANS) Filmmaker Karan Johar says he will announce a new film with actress Sonakshi Sinha within the next two weeks. View More..

Updated On :
Dec 02,2017 3:16 pm
Mumbai, Dec 2 (IANS) Actor Varun Dhawan says Shoojit Sircar's "October" has given him a chance to do something "different" after a long time and that it was a life-changing experience for him. View More..

Updated On :
Nov 30,2017 5:52 pm
New Delhi, Nov 30 (IANS) India's first Madame Tussauds wax museum opened its doors here on Thursday with 50 life-like figures spanning across history, sports, music, films and politics, for the public at the iconic Regal building in central Delhi. View More..

Updated On :
Nov 28,2017 6:16 pm
Mumbai, Nov 28 (IANS) Designer Nikhil Thampi, whose designs have been worn by celebrities like Deepika Padukone, Kareena Kapoor Khan and Katrina Kaif, says his transformation from a psychology student to a designer was not smooth. View More..

Updated On :
Nov 22,2017 2:22 pm
New Delhi, Nov 22 (IANS) Actress Sonam Kapoor says she keeps herself away from the buzz on her personal life in the media by focusing on things that matter. View More..

Updated On :
Nov 20,2017 12:56 pm
New Delhi, Nov 20 (IANS) Actress Sonam Kapoor says that Rheson, a fashion label that she owns along with her producer sister Rhea, is not just a celebrity label but a high-street fashion brand by two sisters who happen to be in the Indian movie business. View More..

Updated On :
Nov 18,2017 3:52 pm
Mumbai, Nov 18 (IANS) Actor Arbaaz Khan, who is gearing up for the release of his upcoming film "Tera Intezaar" along with Sunny Leone, says that he would love to work with the actress again. View More..

Updated On :
Nov 08,2017 3:48 pm
Mumbai, Nov 8 (IANS) Actor Sumeet Vyas says Bollywood is like a local train, and he is struggling to find "a window seat in this crowded train". View More..

Updated On :
Oct 26,2017 8:00 pm
Mumbai, Oct 26 (IANS) Comedienne Mallika Dua, who has hit out at Bollywood star Akshay Kumar for a remark aimed at her during a shoot, says she wanted to start a dialogue about etiquette at the workplace, where big shots often cannot differentiate between "charm and harm". View More..

Updated On :
Oct 25,2017 10:06 pm
Mumbai, Oct 25 (IANS) The entire Bollywood, including the Bachchan and Kapoor clans, was spotted at the prayer meet for Ram Mukherjee, father of actress Rani Mukerji, on Wednesday. View More..

Updated On :
Oct 25,2017 1:06 pm
Mumbai, Oct 25 (IANS) Girls, glamour and ensembles -- the first poster of the upcoming film "Veere Di Wedding" was unveiled on Wednesday, has it all. View More..

Updated On :
Oct 18,2017 4:32 pm
Mumbai, Oct 18 (IANS) October 26 will mark a decade since "Jab We Met" released, but to many Bollywood buffs, it feels as fresh as ever. Director Imtiaz Ali says keeping a movie "pure" is important for it to be remembered. View More..

Updated On :
Oct 16,2017 4:34 pm
Mumbai, Oct 16 (IANS) Actress Sonam Kapoor is livid over gossip around an alleged 'cat fight' on the sets of her film "Veere Di Wedding", which features an ensemble of actresses including Kareena Kapoor Khan, Swara Bhasker and Shikha Talsania. View More..