Kareena Kapoor Biography
Name: Kareena Kapoor
Nickname: Bebo
Date of Birth: 21, September 1980
Zodiac Sign: Virgo
Height: 5' 4" (1.63 m)
Debut Movie: Refugee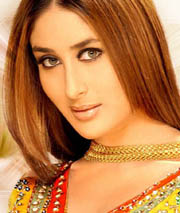 Kareena Kapoor has glamorous look and she is most attractive and successful star in the Bollywood. She belongs to high profile family and acting talent run in her family.
Kareena is the younger daughter of Randhir Kapoor and Babita who were famous actors of their time. She has one elder sister Karisma who too gained fame in the field of acting.
Regarding her educational background, Kareena completed schooling from Jamnabai Narsee School in Mumbai but later on shifted to Welham Girl's Boarding School in Dehradun.
She holds degree in Higher Education with Commerce Stream from Mithibai College, Juhu in Mumbai and then shifted to Harvard where she took admission in Microcomputers and Information Technology.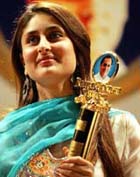 After education, Kareena chose acting as career and attended Kishore Namit Kapoor acting School.
Kareena Kapoor made her acting first appearance with film 'Refugee' but this film did not shaped her acting career. After that she played an important role in Karan Johar's blockbuster 'Kabhi Kushi Kabhi Gham' that gave her applause and business success.
More On Bollywood
Bollywood Upcoming Movies
Bollywood Stars Biography
Bollywood Stars Latest Event Gallery
Bollywood Top 10 Songs
She was also seen in the movie 'Ashoka' with SRK in 2001. Her acting was highly appreciated in these two films and she generated huge fans.
Kareena received her second compliments for her good acting in the film 'Chameli' which was released in 2004. In this movie she played a role of a prostitute and got Filmfare Special Performance Award.
Another hit movie of Kareena gave was 'Jab We Met' in which she worked with Shahid Kapoor and her acting was marvellous. Both actors were centre of attraction at that time and media highlighted their close relationships.
Later on Karena became close to famous Bollywood star Saif Ali Khan and worked together in the movie 'Omkara' which was another blockbuster.
She also proved herself as most beautiful and stunning heroine in films such as Don, Heroine, Bodyguard, 3-Idiots and Golmaal-3, Bodyguard etc.
In all these movies, Kareena's acting was applauded and these films were huge commercial success. Bodyguard earned approximately 82 crore in just five days, making it a gargantuan hit.
In September 2013, her film Satyagrah was released in which she acted as journalist, where her acting was much appreciated. Kareena Kapoor and Saif Ali Khan had affair for many years and finally they tied knot and are the most passionate couples of Bollywood.
After marriage, Kareena's life has not changed and she continues to follow her acting career.
Kareena Kapoor Latest News
Updated On :
Aug 14,2017 7:04 pm
Mumbai, Aug 14 (IANS) Bollywood actor Sidharth Malhotra, who is busy promoting his forthcoming film "A Gentleman", will be in Ahmedabad on Tuesday to be a spectator at a match of the Pro Kabaddi League (PKL). View More..

Updated On :
Aug 14,2017 12:10 pm
Mumbai, Aug 14 (IANS) Iranian-Swedish actress and model Maryam Zakaria, who performed to the Bollywood track "Dil mera muft ka" alongside actress Kareena Kapoor Khan in 2012, is excited about her special dance song in comedian and actor Kapil Sharma's second film "Firangi". View More..

Updated On :
Aug 10,2017 6:08 pm
New Delhi, Aug 10 (IANS) Madhur Brij, the younger sister of Madhubala, says that all the actresses of today are very beautiful but she wants Bollywood diva Kareena Kapoor Khan to play the late actress if the biopic is made on her as the "Jab We Met" heroine has the same naughtiness that the former used to have. View More..

Updated On :
Aug 09,2017 6:22 pm
Hyderabad, Aug 9 (IANS) Actor Shreyas Talpade, who played Laxman with a stammering problem in "Golmaal 3", says his character in "Golmaal Again" will not stammer, but there will another "quirk". View More..

Updated On :
Aug 08,2017 12:36 pm
Bengaluru, Aug 8 (IANS) Owing her success to big Bollywood names and social media, nutritionist Rujuta Diwekar, who has worked with the likes of Kareena Kapoor Khan, says she finds it "easier" to work with celebrities than others for the commitment the former display. View More..

Updated On :
Aug 05,2017 11:04 am
New Delhi, Aug 5 (IANS) American singer and songwriter Meghan Trainor's lyrics "Yeah, my momma she told me don't worry about your size" aptly sums up the Indian fashion industry today, given how designers are taking notice of the plus size segment and adding oodles of style to it. View More..

Updated On :
Aug 04,2017 11:08 am
Film: "Jab Harry Met Sejal"; Director: Imtiaz Ali; Cast: Shah Rukh Khan and Anushka Sharma, Rating: **1/2 View More..

Updated On :
Aug 01,2017 5:26 pm
Mumbai, Aug 1 (IANS) After getting famous with his web series "Permanent Roommates", actor Sumeet Vyas will be making his film debut with Kareena Kapoor Khan starrer "Veerey Di Wedding". He says getting the opportunity to live his Bollywood dream is big and as "mainstream as it can get". View More..

Updated On :
Aug 01,2017 1:48 pm
New Delhi, Aug 1 (IANS) Debutant Aadar Jain, who is the grandson of legendary actor-filmamker Raj Kapoor, says he does not take tips on acting from his family members as he wants to take credit for his success or failure in the industry on his own. View More..

Updated On :
Jul 27,2017 1:40 pm
New Delhi, July 27 (IANS) Designer Anita Dongre has helped put India on the global map. And the woman whose creation Duchess of Cambridge Kate Middleton picked for an outing and who has unveiled two stores in New York, says the Indian diaspora has influenced fashion across the world. View More..

Updated On :
Jul 26,2017 12:02 pm
New Delhi, July 26 (IANS) It wasn't long ago when actress Sonakshi Sinha got trolled for sporting blonde hair with a white sari and a colourful pallu at an awards ceremony in the US. But people must try the golden look once in their lifetime, suggests popular hairstylist Asha Hariharan. View More..

Updated On :
Jul 21,2017 5:28 pm
New Delhi, July 21 (IANS) Celebrated designer Manish Malhotra, who gave startling makeovers to many Bollywood divas including Kareena Kapoor, Kajol and Alia Bhatt, says that his entire childhood was spent watching movies as he was a terrible student. View More..

Updated On :
Jul 21,2017 2:18 pm
Mumbai, July 21 (IANS) Actor-producer Anil Kapoor says his three children -- actress Sonam Kapoor, producer-fashion stylist Rhea Kapoor and budding actor Harshvardhan Kapoor -- have very different personalities. View More..

Updated On :
Jul 18,2017 1:20 pm
Mumbai, July 18 (IANS) Actor Ranbir Kapoor, son of veteran actors Rishi Kapoor and Neetu Kapoor, says that nepotism does exist in the entertainment industry and he is a "disarming product" of it. View More..

Updated On :
Jul 15,2017 9:06 pm
Mumbai, July 15 (IANS) Actress Kareena Kapoor Khan says she has no problem with the media clicking her baby son's picture and she believes that " Taimur is the most amazing looking child". View More..

Updated On :
Jul 15,2017 12:14 pm
New Delhi, July 15 (IANS) Manish Malhotra will be bringing the curtain down on the India Couture Week (ICW) 2017, and many expect the show to be high on Bollywood glamour. The ace designer takes pride in the fact that he is the first to introduce the concept of showstoppers in Indian fashion, something for which he was initially criticised. View More..

Updated On :
Jul 07,2017 12:50 pm
New Delhi, July 7 (IANS) She started as an assistant director on the sets of Sanjay Leela Bhansali's "Black" in 2005 and then ventured into the world of acting with the filmmaker's romantic drama "Saawariya". Actress Sonam Kapoor says her behind-the-camera experience helps her in understanding the concept of filmmaking better. View More..

Updated On :
Jul 04,2017 11:56 am
New Delhi, July 4 (IANS) In a video gone viral, she looks helpless and uncomfortable as she tries to hide her face and turns around to escape shutterbugs who go clickety-click while she waits for the doors of an elevator to open at a theatre's basement. View More..

Updated On :
Jun 28,2017 7:00 pm
Mumbai, June 28 (IANS) Actor Saif Ali Khan says he is "fully supportive" of his daughter Sara's acting ambitions. He has clarified that rumours suggesting that he and his former wife Amrita Singh are on different pages regarding the issue, are "fictitious". View More..

Updated On :
Jun 28,2017 4:18 pm
New Delhi, June 28 (IANS) A mom-to-be is never too short on "Dos and Don'ts" pouring in, leaving her perplexed during the most important phase of her life. But now she has a rescuer in health expert Rujuta Diwekar's latest book that helps with tips for all those who are either planning to have a child, are pregnant or are nursing moms. View More..