Kareena Kapoor Biography
Name: Kareena Kapoor
Nickname: Bebo
Date of Birth: 21, September 1980
Zodiac Sign: Virgo
Height: 5' 4" (1.63 m)
Debut Movie: Refugee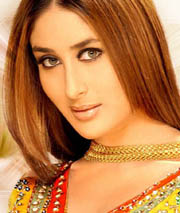 Kareena Kapoor has glamorous look and she is most attractive and successful star in the Bollywood. She belongs to high profile family and acting talent run in her family.
Kareena is the younger daughter of Randhir Kapoor and Babita who were famous actors of their time. She has one elder sister Karisma who too gained fame in the field of acting.
Regarding her educational background, Kareena completed schooling from Jamnabai Narsee School in Mumbai but later on shifted to Welham Girl's Boarding School in Dehradun.
She holds degree in Higher Education with Commerce Stream from Mithibai College, Juhu in Mumbai and then shifted to Harvard where she took admission in Microcomputers and Information Technology.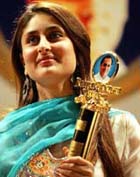 After education, Kareena chose acting as career and attended Kishore Namit Kapoor acting School.
Kareena Kapoor made her acting first appearance with film 'Refugee' but this film did not shaped her acting career. After that she played an important role in Karan Johar's blockbuster 'Kabhi Kushi Kabhi Gham' that gave her applause and business success.
More On Bollywood
Bollywood Upcoming Movies
Bollywood Stars Biography
Bollywood Stars Latest Event Gallery
Bollywood Top 10 Songs
She was also seen in the movie 'Ashoka' with SRK in 2001. Her acting was highly appreciated in these two films and she generated huge fans.
Kareena received her second compliments for her good acting in the film 'Chameli' which was released in 2004. In this movie she played a role of a prostitute and got Filmfare Special Performance Award.
Another hit movie of Kareena gave was 'Jab We Met' in which she worked with Shahid Kapoor and her acting was marvellous. Both actors were centre of attraction at that time and media highlighted their close relationships.
Later on Karena became close to famous Bollywood star Saif Ali Khan and worked together in the movie 'Omkara' which was another blockbuster.
She also proved herself as most beautiful and stunning heroine in films such as Don, Heroine, Bodyguard, 3-Idiots and Golmaal-3, Bodyguard etc.
In all these movies, Kareena's acting was applauded and these films were huge commercial success. Bodyguard earned approximately 82 crore in just five days, making it a gargantuan hit.
In September 2013, her film Satyagrah was released in which she acted as journalist, where her acting was much appreciated. Kareena Kapoor and Saif Ali Khan had affair for many years and finally they tied knot and are the most passionate couples of Bollywood.
After marriage, Kareena's life has not changed and she continues to follow her acting career.
Kareena Kapoor Latest News
Updated On :
Feb 15,2018 6:32 pm
Mumbai, Feb 15 (IANS) Actor Rishi Kapoor, son of late filmmaker-actor Raj Kapoor, says the current generation still talks about his father's films and so, he is still alive in the audience. View More..

Updated On :
Feb 10,2018 10:50 am
Mumbai, Feb 10 (IANS) Actress Sonam Kapoor is riding high with her lauded performance in "Pad Man" . She says it is important for her to play roles that reflect the social conscience in these "difficult times". View More..

Updated On :
Feb 08,2018 3:50 pm
Mumbai, Feb 8 (IANS) When "Pad Man" hits the screens on Friday, it will be the first time that actress Radhika Apte won't be present in Mumbai for her film's release. She says the movie is special, but she is busy with the shoot of another project in Delhi. View More..

Updated On :
Feb 07,2018 11:34 am
New Delhi, Feb 7 (IANS) Sabyasachi Mukherjee just wanted to earn money to get on an airplane and travel the world when he entered the fashion industry, and went on to make a special place for himself by weaving traditional stories with threads of Indian culture through his creations. India's ace couturier says he wants to make sure that he "comes up with something that the copy market can copy" that in turn creates jobs in the market. View More..

Updated On :
Feb 05,2018 3:22 pm
New Delhi, Feb 5 (IANS) He made his acting debut as a child in "Masoom", and went to do projects like "Papa Kahte Hain" and "Mohabbatein" before getting into direction. Jugal Hansraj says he enjoys directing more than acting, and wants to bring out the world of his self-authored children's book "Cross Connection - The Big Circus Adventure" on the big screen via an animated film. View More..

Updated On :
Feb 05,2018 1:24 pm
M0umbai, Feb 5 (IANS) From his father Amitabh Bachchan to his dear friend Farah Khan and Farhan Akhtar -- Bollywood celebrities filled Twitter with good wishes for Abhishek Bachchan on his 42nd birthday on Monday. View More..

Updated On :
Feb 05,2018 11:48 am
Mumbai, Feb 5 (IANS) Actress Kareena Kapoor Khan, who is looking her best self nowadays after shedding all the extra weight after the birth of her son Taimur, says her journey in the film industry has been enriching and she would like to work another two decades in Bollywood. View More..

Updated On :
Feb 05,2018 9:00 am
Mumbai, Feb 5 (IANS) Actress Kareena Kapoor Khan closed the Summer/ Resort 2018 edition of Lakme Fashion Week (LFW) as a perfect showstopper as she walked the runway for designer Anamika Khanna in a black outfit that was inspired by sari. View More..

Updated On :
Feb 04,2018 11:56 am
Mumbai, Feb 4 (IANS) Actor Saif Ali Khan, who walked as a showstopper for designers Shantanu and Nikhil at Lakme Fashion Week (LFW) Summer/ Resort 2018, says that his wife Kareena Kapoor Khan was amazed to hear about his plans. View More..

Updated On :
Feb 01,2018 7:38 pm
Mumbai, Feb 1 (IANS) Former US Secretary of State Hillary Clinton will be one of the speakers at the India Today Conclave here in March, organisers said on Thursday. View More..

Updated On :
Jan 31,2018 4:10 pm
Mumbai, Jan 31 (IANS) Designers Shantanu and Nikhil Mehra feel that there have been some major changes in the fashion industry over the years, leading to a much-awaited shift that has led to the rejuvenation of young millenials. View More..

Updated On :
Jan 30,2018 11:04 am
Mumbai, Jan 30 (IANS) The Summer-Resort edition of Lakme Fashion Week (LFW) will start here Wednesday, with the five-day fashion gala promising some of the best names from the fashion world as well as Bollywood, including Kareena Kapoor Khan, Sushmita Sen and Kriti Sanon, walking the ramp. Over 70 designers will showcase their collection at the fashion gala, to take place at JioGarden, Bandra-Kurla Complex. View More..

Updated On :
Jan 25,2018 9:26 pm
Mumbai, Jan 25 (IANS) Bollywood actress Kareena Kapoor Khan will be back on Lakme Fashion Week (LFW) runway with its forthcoming edition and she "can't wait for it". View More..

Updated On :
Jan 19,2018 12:04 pm
New Delhi, Jan 19 (IANS) She was one of the first few Indian designers to showcase her collection at the Paris Fashion Week and the London Fashion Week, and is well-known for celebrating the country through her designs. Veteran designer Anamika Khanna says one can easily write a book on her journey in the fashion industry. View More..

Updated On :
Jan 18,2018 5:04 pm
New Delhi, Jan 18 (IANS) Actress Sunny Leone's wax figure will be placed at the Madame Tussauds musuem here. View More..

Updated On :
Jan 17,2018 6:40 pm
Mumbai, Jan 17 (IANS) Bollywood star Kareena Kapoor Khan will take to the ramp at the finale of the forthcoming Lakme Fashion Week (LFW) Summer-Resort 2018 edition as showstopper in a creation by designer Anamika Khanna. View More..

Updated On :
Jan 17,2018 4:04 pm
Mumbai, Jan 17 (IANS) Actor Leenesh Mattoo is set to wear a sherwani by ace designer Manish Malhotra for his on-screen wedding. View More..

Updated On :
Jan 16,2018 5:24 pm
Mumbai, Jan 16 (IANS) Fashion designer Manish Malhotra has bagged the Best Original Costume Design Award for "Mughal-e-Azam: The Musical" at the Broadway World India Awards. View More..

Updated On :
Jan 16,2018 1:58 pm
Mumbai, Jan 16 (IANS) Actress Sonam Kapoor, caught amidst wedding rumours, says it is high time people change their attitude towards married actresses. View More..

Updated On :
Jan 13,2018 11:14 am
Mumbai, Jan 13 (IANS) Director Shashank Ghosh's film "Veere Di Wedding" is now scheduled to release on June 1. View More..