Hrithik Roshan Biography
Name: Hrithik Roshan
Birth name: Hrithik Roshanlal Nagrath
Nickname: Duggu & Bolunath
Height: 6' 0�" (1.84 m)
Normal weight: 72Kg
Eye color: Green
Spouse: Suzanne Khan
Debut film: Kaho Na Pyaar Hai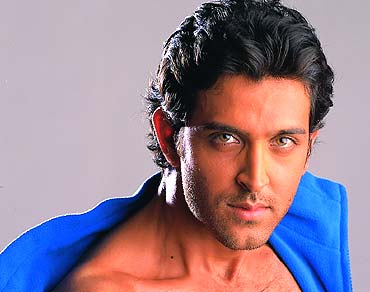 Hrithik Roshan is considered as the most charming and handsome hero in Bollywood. He has unique style of dancing and acting which appeals viewers in India and abroad.
His captivating personality, screen charisma, handsome appearance, and astonishing dancing skills make him an extraordinary hero of Bollywood.
Hrithik Roshan entered film industry and his first film was AASHA where he played a child artist role.
As adult he debuted in 2000 in "Kahonaa Pyaar Hai" which was a blockbuster film. He bagged his Filmfare Awards for Best Actor and Best Male Debut for this film that turned his career to the top.
Looking at his biographical sketch, Hrithik was born in a family of stars. His father is Rakesh Roshan, famous actor of his time and his mother is Pinky Roshan. He is married to his childhood friend Suzanne Khan, daughter of famous star Sanjay Khan. They have two sons Hrehaan and Hridhaan.
Hrithik Roshan has given many super hit movies and his acting is appreciated by the audience. So far he had a very successful run in the film industry and he got accolade for his good acting in many of his films.
More On Bollywood
Bollywood Upcoming Movies
Bollywood Stars Biography
Bollywood Stars Latest Event Gallery
Bollywood Top 10 Songs
He received critical acclamation for his performance in Jodhaa Akbar, in which he played the role of historical figure Akbar the Great. He also received an International award for this film at the Golden Minbar International Film Festival.
His acting in the melodrama 'Kabhi Khushi Kabhie Gam' was much appreciated by the audience. The film became a blockbuster in India as well as in overseas market and generated huge revenue.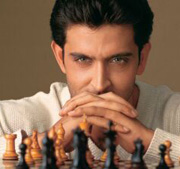 He worked very hard in his grand project "Kites" but it flopped at the box office.His other famous movies are Koi Mil Gaya and its follow-on Krrish that won him several Best Actor awards. Roshan received Filmfare Award for Best Actor in 2006 for Dhoom 2.
These achievements made him super star in Hindi cinema. He has a wax figure at Madame Tussauds Wax Museum making him the fifth Bollywood actor who has been simulated as a wax statue.
Hrithik Roshan is currently working on the ambitious film Krrish 3, directed by Rakesh Roshan in which he has a marvellous role. Film reports indicate that Hrithik will act triple role in the film. Hrithik and Priyanka will appear in their same roles from Krrish while Vivek Oberoi will act in negative role.
The movie will be released on the occasion of Diwali in 2013. It is anticipated that Krrish 3 will break many records in Bollywood. Presently, Hrithik is engaged in shooting of 'Bang Bang', a remake of Tom Cruise's Knight and Day.
While reviewing acting and career of Hrithik Roshan, it can be said that this hero has outstanding personality. His best attribute is that he has got excellent dancing skills.

Hrithik Roshan Latest News
Updated On :
Dec 07,2016 7:56 pm
Mumbai, Dec 7 (IANS) Superstar Shah Rukh Khan, whose film "Raees" is set to hit the screens next year, says he feels that by then the whole issue of demonetisation will settle down. View More..

Updated On :
Dec 05,2016 6:50 pm
Mumbai, Dec 5 (IANS) Actor Sushant Singh Rajput, who tasted fame with the TV show "Pavitra Rishta", says he will work on his biopic after 10 to 15 years. View More..

Updated On :
Dec 04,2016 2:22 pm
Mumbai, Dec 4 (IANS) Ganesh Hegde, who has choreographed actors like Amitabh Bachchan, Hrithik Roshan, Aamir Khan and Shah Rukh Khan, says he would like to work with actor Shahid Kapoor in a film. View More..

Updated On :
Nov 30,2016 5:18 pm
Mumbai, Nov 30 (IANS) Filmmaker Rakesh Roshan says he is proud of his son and actor Hrithik Roshan, who was recently selected the third most handsome face in the world. View More..

Updated On :
Nov 29,2016 5:10 pm
Mumbai, Nov 29 (IANS) "Student of The Year" stars Alia Bhatt and Varun Dhawan are set to perform at Nickelodeon's Kids Choice Awards 2016, which will be hosted by Manish Paul. View More..

Updated On :
Nov 28,2016 7:48 pm
Mumbai, Nov 28 (IANS) Actor Hrithik Roshan wished his "Kaabil" co-star Yami Gautam on her birthday on Monday, and said let's play superheroes in a film. View More..

Updated On :
Nov 28,2016 5:56 pm
Mumbai, Nov 28 (IANS) Sahil Sangha, who has produced films like "Love Breakups Zindagi" and "Bobby Jasoos", says he has finished writing two scripts, and an announcement will be made in January next year. View More..

Updated On :
Nov 27,2016 4:46 pm
Mumbai, Nov 27 (IANS) Actor Hrithik Roshan says he is yet to like any Hollywood project offered to him, and that a good script will always be his priority while selecting projects. View More..

Updated On :
Nov 26,2016 11:38 am
Mumbai, Nov 26 (IANS) The debacle of Ashutosh Gowariker-directed "Mohenjo Daro" didn't affect actress Pooja Hegde as she believes she got what she wanted from the film. Irrespective of its box-office result, she says it was her dream project. View More..

Updated On :
Nov 25,2016 2:22 pm
Mumbai, Nov 25 (IANS) Bollywood actor Hrithik Roshan announced Vishnu Raj Menon as Mr India 2016 here. View More..

Updated On :
Nov 24,2016 12:16 pm
Mumbai, Nov 24 (IANS) Actor Hrithik Roshan, whose film "Dhoom 2" has completed 10 yeras of its release in Hindi filmdom, says it will always be a milestone for him. View More..

Updated On :
Nov 18,2016 1:38 pm
Mumbai, Nov 18 (IANS) Coldplay frontman Chris Martin on Thursday night was in the company of Bollywood superstar Shah Rukh Khan, Oscar winner A.R. Rahman, designer Manish Malhotra and others from the Indian film industry, ahead of the debut edition of the Global Citizen Festival India (GCFI) here. View More..

Updated On :
Nov 17,2016 10:00 pm
Mumbai, Nov 17 (IANS) The legal battle between actors Hrithik Roshan and Kangana Ranaut following their public spat over whether the two were in a relationship in the past isn't over yet, said Hrithik's legal team on Thursday. View More..

Updated On :
Nov 17,2016 12:02 pm
Mumbai, Nov 17 (IANS) Actor Hrithik Roshan has wished the team of the forthcoming film "Tum Bin 2" good luck. View More..

Updated On :
Nov 15,2016 6:02 pm
Noida, Nov 15 (IANS) Bollywood star Hrithik Roshan, who will next be seen on screen in "Kaabil", says filming the movie was a beautiful journey for him. View More..

Updated On :
Nov 13,2016 4:50 pm
Mumbai, Nov 13 (IANS) Actor Hrithik Roshan says whatever he does, he does it in the best possible way. View More..

Updated On :
Nov 11,2016 12:34 pm
New Delhi, Nov 11 (IANS) National Award winning actor Girish Kulkarni says commercialisation of cinema is affecting independent filmmakers as their films are being watched by a smaller audience -- reflecting how pure art is always consumed by fewer people. View More..

Updated On :
Nov 08,2016 2:02 pm
Chennai, Nov 8 (IANS) Actress Pooja Hegde, who has commenced work on upcoming Telugu film "Duvvada Jagannadham", says she has been looking forward to an opportunity to work with co-star Allu Arjun for a long time. View More..

Updated On :
Nov 06,2016 1:14 pm
Mumbai, Nov 6 (IANS) Veteran Indian actor Kabir Bedi is rooting for Democratic nominee Hillary Clinton and says a woman president of the US would make a "historic landmark." View More..

Updated On :
Oct 30,2016 2:20 pm
Mumbai, Oct 30 (IANS) Bollywood members like Amitabh Bachchan, Priyanka Chopra, Aamir Khan and Nawazuddin Siddiqui took to Twitter to wish their fans and followers a progressive and joyous Diwali, and urged them to go easy on crackers. View More..