Hrithik Roshan Biography
Name: Hrithik Roshan
Birth name: Hrithik Roshanlal Nagrath
Nickname: Duggu & Bolunath
Height: 6' 0�" (1.84 m)
Normal weight: 72Kg
Eye color: Green
Spouse: Suzanne Khan
Debut film: Kaho Na Pyaar Hai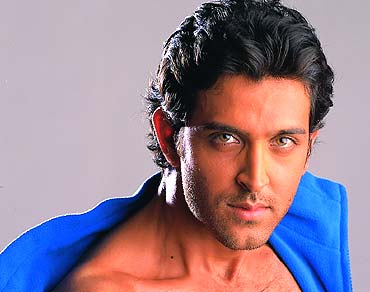 Hrithik Roshan is considered as the most charming and handsome hero in Bollywood. He has unique style of dancing and acting which appeals viewers in India and abroad.
His captivating personality, screen charisma, handsome appearance, and astonishing dancing skills make him an extraordinary hero of Bollywood.
Hrithik Roshan entered film industry and his first film was AASHA where he played a child artist role.
As adult he debuted in 2000 in "Kahonaa Pyaar Hai" which was a blockbuster film. He bagged his Filmfare Awards for Best Actor and Best Male Debut for this film that turned his career to the top.
Looking at his biographical sketch, Hrithik was born in a family of stars. His father is Rakesh Roshan, famous actor of his time and his mother is Pinky Roshan. He is married to his childhood friend Suzanne Khan, daughter of famous star Sanjay Khan. They have two sons Hrehaan and Hridhaan.
Hrithik Roshan has given many super hit movies and his acting is appreciated by the audience. So far he had a very successful run in the film industry and he got accolade for his good acting in many of his films.
More On Bollywood
Bollywood Upcoming Movies
Bollywood Stars Biography
Bollywood Stars Latest Event Gallery
Bollywood Top 10 Songs
He received critical acclamation for his performance in Jodhaa Akbar, in which he played the role of historical figure Akbar the Great. He also received an International award for this film at the Golden Minbar International Film Festival.
His acting in the melodrama 'Kabhi Khushi Kabhie Gam' was much appreciated by the audience. The film became a blockbuster in India as well as in overseas market and generated huge revenue.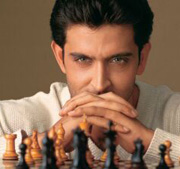 He worked very hard in his grand project "Kites" but it flopped at the box office.His other famous movies are Koi Mil Gaya and its follow-on Krrish that won him several Best Actor awards. Roshan received Filmfare Award for Best Actor in 2006 for Dhoom 2.
These achievements made him super star in Hindi cinema. He has a wax figure at Madame Tussauds Wax Museum making him the fifth Bollywood actor who has been simulated as a wax statue.
Hrithik Roshan is currently working on the ambitious film Krrish 3, directed by Rakesh Roshan in which he has a marvellous role. Film reports indicate that Hrithik will act triple role in the film. Hrithik and Priyanka will appear in their same roles from Krrish while Vivek Oberoi will act in negative role.
The movie will be released on the occasion of Diwali in 2013. It is anticipated that Krrish 3 will break many records in Bollywood. Presently, Hrithik is engaged in shooting of 'Bang Bang', a remake of Tom Cruise's Knight and Day.
While reviewing acting and career of Hrithik Roshan, it can be said that this hero has outstanding personality. His best attribute is that he has got excellent dancing skills.

Hrithik Roshan Latest News
Updated On :
Apr 21,2018 11:18 am
ATTN EDITORS: "Secret Sauce" is an in-depth look at 40 of India's most iconic and successful restaurants, not just as landmarks and must-visit destinations but also as businesses that have stood the test of time and upheld their standards of dining and culinary excellence. From a 100-year-old no-frills eatery in Bengaluru to an award-winning dine-out venue in Delhi, from inventive cafes to nationwide chains that have scaled admirably, this book is a sumptuous treat for aspiring food entrepreneurs, foodies, and anyone interested in the success secrets and inner workings of the restaurant business in India. This is the second of two exclusive extracts reproduced with permission from the publisher, Harper Business. View More..

Updated On :
Apr 20,2018 6:54 pm
Mumbai, April 20 (IANS) Rapper Badshah loves the concept of dance reality TV show "High Fever…Dance Ka Naya Tevar". View More..

Updated On :
Apr 07,2018 7:30 am
Mumbai, April 7 (IANS) Actress Tamannaah Bhatia has said there is no better sports event than Indian Premier League (IPL) to perform for and she is excited about performing in the opening ceremony of the glamorous Twenty20 cricket tournament. View More..

Updated On :
Apr 06,2018 11:26 am
Mumbai, April 6 (IANS) Actor Kartik Aaryan, who is enjoying the success of his latest release "Sonu Ke Titu Ki Sweety", says he will now try and do at least two films a year. View More..

Updated On :
Apr 01,2018 3:46 pm
New Delhi, April 1 (IANS) Singer Amit Mishra, who has sung in films starring Salman Khan, Ranbir Kapoor and Varun Dhawan, wants to check lending his voice to actor Hrithik Roshan off his bucket list. View More..

Updated On :
Mar 31,2018 5:40 pm
Mumbai, March 31 (IANS) Tiger Shroff's "Baaghi 2", which got mixed reviews from the critics, has raked in Rs 25.10 crore on its opening day. View More..

Updated On :
Mar 29,2018 1:22 am
Mumbai, March 29 (IANS) Bollywood superstar Hrithik Roshan in a motivational video on his social media account urged children to be fearless and try something different. View More..

Updated On :
Mar 27,2018 12:24 pm
Mumbai, March 27 (IANS) Actor Abhay Deol, who was a part of Zoya Akhtar's memorable film "Zindagi Na Milegi Dobara", says the primary cast members, including Hrithik Roshan and Farhan Akhtar, are ready for a sequel, but the director needs to say "yes". View More..

Updated On :
Mar 22,2018 6:14 pm
Mumbai, March 22 (IANS) Actor Tiger Shroff, geared up for "Baaghi 2", believes that action has a universal language and it has mass appeal. View More..

Updated On :
Mar 22,2018 1:46 pm
Mumbai, March 22 (IANS) Actor-comedian Varun Thakur says if given a chance, he would like to legalise marijuana in India. View More..

Updated On :
Mar 21,2018 9:18 pm
Mumbai, March 21 (IANS) Bollywood superstar Hrithik Roshan, who is playing mathematician Anand Kumar in his upcoming film "Super 30", says he used to fear maths as a subject during his school days. View More..

Updated On :
Mar 21,2018 8:32 pm
Mumbai, March 21 (IANS) In a huge embarrassment for the Maharashta government, the Bombay High Court on Wednesday ordered the release of celebrity lawyer Rizwan Siddiqui who was arrested in the infamous Thane Call Details Record (CDR) scam, in which names of several celebrities have tumbled out. View More..

Updated On :
Mar 21,2018 12:24 pm
Mumbai, March 21 (IANS) Bollywood actress Kangana Ranaut on Wednesday reacted to her name being brought up in the Thane Call Detail Record (CDR) case, saying proper investigation must be done before drawing assumptions. View More..

Updated On :
Mar 14,2018 7:26 pm
Mumbai, March 14 (IANS) Hindi film actor Narendra Jha, seen in films like "Haider" and "Raees", died on Wednesday due to a heart attack, leaving the Bollywood fraternity in disbelief. He was 55. View More..

Updated On :
Mar 14,2018 4:30 pm
Mumbai, March 14 (IANS) The last dialogue we ever heard Narendra say on-screen was: "Life is unpredictable. Who knows about the next Friday?" View More..

Updated On :
Mar 13,2018 4:32 pm
Mumbai, March 13 (IANS) Pankaj Tripathi's "Mango Dreams" will release on online streaming app Netflix, and the actor is confident it will fetch a large audience. View More..

Updated On :
Mar 09,2018 4:10 pm
Mumbai, March 9 (IANS) After the Supreme Court announced on Friday that a person has the "right to die with dignity" in case of an irreversible stage of terminal illness, filmmaker Sanjay Leela Bhansali, who tackled the theme of euthanasia in "Guzaarish", has recounted that the subject had sparked a hue and cry when the movie released in 2010. View More..

Updated On :
Mar 07,2018 3:38 pm
New Delhi, March 7 (IANS) After the success of television show "Meri Aashiqui Tum Se Hi", actress Radhika Madan has taken a break from the small screen industry to focus on making a career in Bollywood. View More..

Updated On :
Mar 05,2018 4:16 pm
Mumbai, March 5 (IANS) Actor Hrithik Roshan on Monday wished good luck to students who are appearing for their board exams. View More..

Updated On :
Mar 03,2018 6:32 pm
New Delhi, March 3 (IANS) Actor Hrithik Roshan has essayed the role of real life mountaineer Arjun Vajpai in an ad campaign. View More..