Deepika Padukone Biography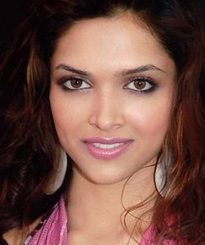 The most charismatic heroine of Bollywood is Deepika Padukone who has made good reputation among millions of viewers in India and abroad.
Her dimpled looks allure the audience and she is considered as queen in the world of glamour.
Deepika Padukone comes from highly talented family. Her father is legendary sports person and gained fame as a badminton player at international level and her mother is working as a travel agent.
Deepika's birthplace is Copenhagen, Denmark. Her family migrated to Bangalore in her childhood. Padukone also has a younger sister, Anisha.
Deepika completed basic education from Sophia High School in Bangalore and achieved her pre-university studies at Mount Carmel College Bangalore.
More On Bollywood
Bollywood Upcoming Movies
Bollywood Stars Biography
Bollywood Stars Latest Event Gallery
Bollywood Top 10 Songs
In her school, she had interest in badminton and participated badminton till the 10th standard at state level but she was not keen to pursue career as a badminton player.
Deepika Padukone entered into the world of films by starting her career through modelling. She was seen in numerous print and television advertisement of Liril, Limca and Close-up.
She was also appointed as a brand ambassador for Jewels of India, a jewellery exhibition and also Face of Maybelline, an international brand. Her photo is also seen in the 2006 Kingfisher Swimsuit Calendar.
She entered the film industry as supermodel and then turned to well-known and charming actress. She passed all these stages with great flamboyance.
She started her acting career in Bollywood with outstanding film Om Shanti Om (2007) that featured superstar Sharukh Khan. After first appearance in runaway success in 'Om Shanti Om, Deepika could not get film of her taste.
She signed many films such as Break Ke Baad, Karthik Calling Karthik, 'Khelein Hum Jee Jaan Sey and Lafangey Parindey. She was also seen in Bachna Ae Haseeno opposite Ranbir Kapoor. However these films were average and she could win any awards.
Even then, producers were interested to take Deepika Padukone as a heroine because she has good persona and the ability to make a movie box office success.
Deepika Padukone's looks and her superb acting made her outstanding heroine, in film Chennai Express, where she played lead role opposite Shah Rukh Khan. The movie broke several Bollywood records. Deepika played her character with charm and kindness.
In her acting, her confidence level is very high that worked as a positive to outshine her as most stunning and glamorous heroines of Bollywood.
Many critics claim that Deepika Padukone has great potential to turn the film to huge commercials success.
This dazzling Bollywood heroine is touching new height of success with Chennai Express. She gave many blockbuster films in 2013 with 'Race 2', 'Yeh Jawaani Hai Deewani'.
Deepika Padukone' unique trait is that she is fully aware of her life goals and accepts the challenging roles to make distinct position among Bollywood heroines.
2013 year end film Goliyon Ki Raasleela: Ramleela opposite actor Ranveer Singh was a big success, for this film Deepika won Screen and Filmfare Award for Best Actress. It was one of the highest grosser films of 2013.
Deepika starrer opposite Superstar Rajnikant in film Kochadaiiyan, a period film directed by the superstar's daughter Saundarya. Deepika had another release opposite actor Arjun Kapoor in Finding Fanny, this film received critical acclaim and earned average at Box Office.
Actress Deepika Padukone had a big release during Diwali in 2014, starring opposite Shahrukh Khan in Happy New Year. This film received mixed reviews but was a commercial success at Box Office.
Deepika has three upcoming projects to the kitty, first one is Piku opposite actor Irfan Khan, second one is Tamasha opposite Ranbir Kapoor and the third one is Bajirao Mastani opposite Ranveer Singh.
Deepika is grown as the most successful actress in Bollywood, she is also seen in several ad endorsements and is names as "World's Sexiest Women" by Indian Edition of FHM.
Deepika Padukone Latest News
Updated On :
Feb 22,2018 12:46 pm
Mumbai, Feb 22 (IANS) Filmmaker Vishal Bhardwaj says he is pushing back his film, starring Deepika Padukone and Irrfan Khan, by a few months as both the actors are having health issues. View More..

Updated On :
Feb 21,2018 6:40 pm
Hyderabad, Feb 21 (IANS) Bollywood actress Deepika Padukone said she was not afraid to fail and not afraid to talk about the way she feels. View More..

Updated On :
Feb 20,2018 6:30 pm
New Delhi, Feb 20 (IANS) The Supreme Court on Tuesday asked a company, one of whose directors is Latha Rajinikanth - wife of Tamil superstar-turned politician Rajinikanth and one of the firm's directors, to repay the outstanding loan within three months, otherwise she will liable for the amount. View More..

Updated On :
Feb 18,2018 12:46 pm
Mumbai, Feb 18 (IANS) Megastar Amitabh Bachchan has jokingly uploaded a job resume on Twitter emphasising on his height. View More..

Updated On :
Feb 16,2018 5:18 pm
Mumbai, Feb 16 (IANS) Indian music label and movie studio T-Series is investing Rs 500 crore in films in 2018, a statement said. View More..

Updated On :
Feb 16,2018 1:34 pm
Mumbai, Feb 16 (IANS) Shooting the most iconic sequence in "Padmaavat" was no bed of roses, recounts filmmaker Sanjay Leela Bhansali, who describes it as being an "emotional" challenge. View More..

Updated On :
Feb 14,2018 12:50 pm
Mumbai, Feb 14 (IANS) Bollywood actor Varun Dhawan shared the first look of his upcoming film "October" on digital platforms especially for his fans on Valentine's Day. He says the movie has helped him grow creatively. View More..

Updated On :
Feb 10,2018 11:20 am
Mumbai, Feb 10 (IANS) Deepika Padukone, whose latest release "Padmaavat" has turned out to be the actress' highest grosser by crossing India collections of Rs 230 crore, says she is yet to celebrate the success and feels the success story is not over as yet. View More..

Updated On :
Feb 09,2018 12:30 pm
New Delhi, Feb 9 (IANS) For Deepika Padukone's resplendent lehengas, Shahid Kapoor's elegant achkans and jamas, and Ranveer Singh's get-up which reflected Turkish origins in "Padmaavat", designer-duo Rimple and Harpreet Narula undertook challenging and extensive research, which they say has left an indelible mark on their own signature aesthetics. View More..

Updated On :
Feb 09,2018 11:26 am
Mumbai, Feb 9 (IANS) Filmmaker R. Balki says the biggest commercial element in his latest film "Pad Man" is lead actor Akshay Kumar. View More..

Updated On :
Feb 09,2018 10:46 am
Mumbai, Feb 9 (IANS) Filmmaker R. Balki says the biggest commercial element in his latest film "Pad Man" is lead actor Akshay Kumar. View More..

Updated On :
Feb 08,2018 3:50 pm
Mumbai, Feb 8 (IANS) When "Pad Man" hits the screens on Friday, it will be the first time that actress Radhika Apte won't be present in Mumbai for her film's release. She says the movie is special, but she is busy with the shoot of another project in Delhi. View More..

Updated On :
Feb 08,2018 2:40 pm
New Delhi, Feb 8 (IANS) The "Pad Man" promotions have seen at least over a 30 film celebrities posing with an open sanitary napkin as part of the #PadManChallenge to convey there's nothing to be "ashamed" about something as "natural" as menstruation. But is it actually helping in breaking taboos surrounding the subject, or is it just another marketing gimmick? View More..

Updated On :
Feb 08,2018 12:10 pm
New Delhi, Feb 8 (IANS) It is the quality of flexibility and ability to adapt to an out-of-comfort zone that helps Indian actors make a mark in a foreign land, says Nimrat Kaur, who has worked in American shows like "Wayward Pines" and "Homeland". View More..

Updated On :
Feb 07,2018 3:42 pm
Indore, Feb 7 (IANS) Sanjay Leela Bhansali's "Padmaavat", which did not release in Madhya Pradesh over protests, will now hit the screens in Indore on Thursday amid high security. View More..

Updated On :
Feb 07,2018 2:18 pm
Jaipur, Feb 7 (IANS) The Shree Rajput Karni Sena, which has strongly protested against the release of periodic drama "Padmaavat", has decided to back the Sarv Brahmin Mahasabha's protest against the "historical tampering" of Queen Laxmi Bai, also called Jhansi Ki Rani, in the film "Manikarnika" starring Kangana Ranaut. View More..

Updated On :
Feb 07,2018 11:34 am
New Delhi, Feb 7 (IANS) Sabyasachi Mukherjee just wanted to earn money to get on an airplane and travel the world when he entered the fashion industry, and went on to make a special place for himself by weaving traditional stories with threads of Indian culture through his creations. India's ace couturier says he wants to make sure that he "comes up with something that the copy market can copy" that in turn creates jobs in the market. View More..

Updated On :
Feb 06,2018 2:12 pm
Mumbai, Feb 6 (IANS) It's not such an easy journey to make for a woman in Bollywood, says Prernaa Arora, who has established her name as a producer with two back-to-back hits "Rustom" and "Toilet: Ek Prem Katha" to her credit. As her third project "Pad Man" is about to be unveiled, she looks at the future not as a female producer but as direct competition for the other Bollywood producers. View More..

Updated On :
Feb 06,2018 11:58 am
New Delhi, Feb 6 (IANS) Piracy continues to be a major issue plaguing the Indian film industry, causing a substantial annual loss in revenues. However, the emergence of the digital world has made it controllable, says Bhushan Kumar, head honcho of entertainment conglomerate T-Series. View More..

Updated On :
Feb 05,2018 3:44 pm
New Delhi, Feb 5 (IANS) Sanjay Leela Bhansali's "Padmaavat", which opened to mixed reviews, is going strong at the box office. The film has minted over Rs 200 crore since its release in India. View More..