Aishwarya Rai Biography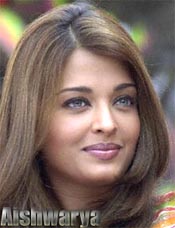 The most beautiful Miss World pageant in 1994, Aishwarya Rai, has charismatic persona in Indian Cinema. She was born on November 1, 1973 in Mangalore, Karnataka to Krishnaraj Rai (Father) and mother Brindya.
During her film career, Aishwarya Rai had her first appearance in critically applauded Tamil film, Iruvar by Mani Ratnam. She played dual role in the film along with Mohanlal and Tabu.
Her twin role was highly praised by the audience.
n Bollywood, she made entry with Rahul Rawail's film, 'Aur Pyaar Ho Gaya' but this film did not work well due to poor publicity.
Her third Tamil-language film, 'Jeans' produced by S. Shankar got huge success. In the film, she also played a double role next to Prashanth. This movie helped her to became popular heroine and her career graph ascended.
More On Bollywood
Bollywood Upcoming Movies
Bollywood Stars Biography
Bollywood Stars Latest Event Gallery
Bollywood Top 10 Songs
She gave many blockbuster films that include Taal, Devdas, Guru, Jodha Akbar and Dhoom 2. Though she had a very successful acting career she had many setbacks in her personal life, especially in relationship with superstar Salman Khan whom she met on the sets of Hum Dil De Chuke Sanam (1999).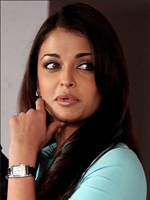 Ash was very disturbed with the behaviour of Salman and in 2001 she flashed the news that Salman was harassing her. After her breakup with Salman, Ashwariya had a brief relationship with Vivek Oberoi, but this relationship did not continue for long.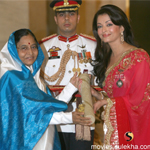 In 2007, Aishwarya Rai acted in film 'Guru' opposite Abhishek Bachcha and on its sets they developed close relationships.
This turned out to become closer and they soon married. This talented couple now has a daughter named Aaradhya.
Aishwarya was chosen Femina Miss India and she had represented the country in the Miss World preliminaries.
She was elected Miss World for 1994-95 and served as an international ambassadress for India until the end of 1995.
She also gained the title of Best Actress by Filmfare and Zee Cine for her superb performance in Hum Dil De Chuke Sanam produced by Sanjay Leela Bansali.
Aishwarya Rai was elected for Film Fare's Best Supporting Actress Award in film, Hamara Dil Aapke Paas Hai by Satish Kaushik.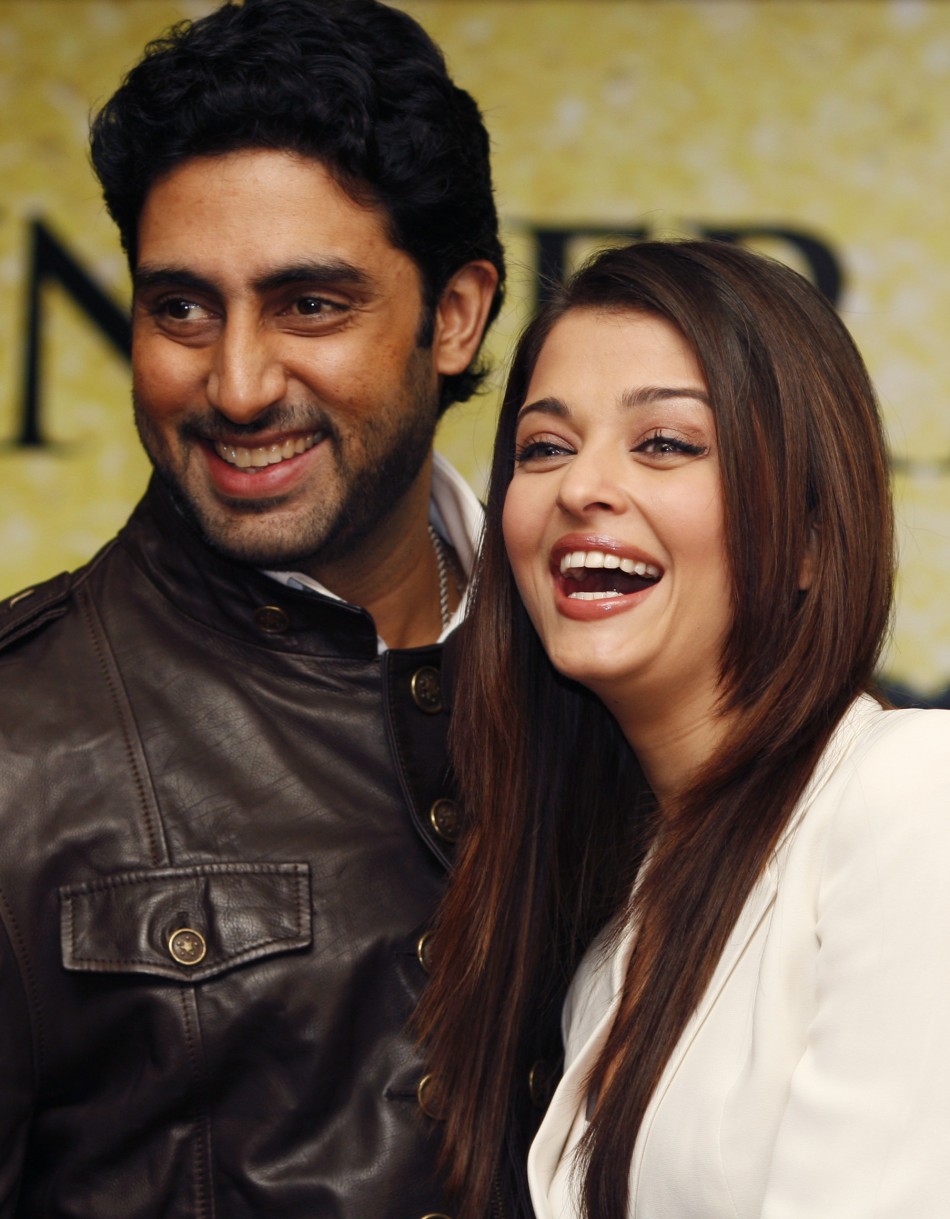 In her acting profession, she gathered many awards and associated for advertisement with numerous companies. She was named ambassador and international "Face of L'Oreal".
In the year of 2004, Indian government invited her to the global competition for the "New Seven Wonders of the World" to announce the name of 'Taj Mahal.'
Aishwarya Rai became the first female Bollywood celebrity immortalized at Madame Tussaud's Wax museum in London.
Aishwarya has extraordinary features that allure the masses who are eagerly waiting for her next release.
Aishwarya Rai Latest News
Updated On :
Apr 21,2018 11:18 am
ATTN EDITORS: "Secret Sauce" is an in-depth look at 40 of India's most iconic and successful restaurants, not just as landmarks and must-visit destinations but also as businesses that have stood the test of time and upheld their standards of dining and culinary excellence. From a 100-year-old no-frills eatery in Bengaluru to an award-winning dine-out venue in Delhi, from inventive cafes to nationwide chains that have scaled admirably, this book is a sumptuous treat for aspiring food entrepreneurs, foodies, and anyone interested in the success secrets and inner workings of the restaurant business in India. This is the second of two exclusive extracts reproduced with permission from the publisher, Harper Business. View More..

Updated On :
Apr 20,2018 5:34 pm
Patna, April 20 (IANS) Actor-politician and BJP leader Shatrughan Sinha on Friday described jailed Rashtriya Janata Dal (RJD) chief Lalu Prasad as his "best friend". View More..

Updated On :
Apr 18,2018 3:32 pm
Patna, April 18 (IANS) Tej Pratap Yadav, the elder son of now jailed RJD chief Lalu Prasad and former Chief Minister Rabri Devi, on Wednesday got engaged to senior RJD leader Chandrika Rai's daughter Aishwarya Rai here. View More..

Updated On :
Apr 12,2018 5:28 pm
New Delhi, April 12 (IANS) Four times National Award-winning designer Neeta Lulla, who has worked on over 300 films, says she would like to make a romantic-comedy movie some day. View More..

Updated On :
Apr 06,2018 10:58 am
New Delhi, April 6 (IANS) He is one of Bollywood's favourite designers and has dressed up the best in the movie business. But if Manish Malhotra had to choose between his label collection and movies, the ace designer would opt for the former because that is his priority. View More..

Updated On :
Apr 03,2018 12:20 pm
Mumbai, April 3 (IANS) American music star Pharrell Williams, who has shared the frame with Indian actress Aishwarya Rai Bachchan on a magazine cover, says he doesn't consider himself a role model. View More..

Updated On :
Mar 28,2018 3:42 pm
Mumbai, March 28 (IANS) Choreographer-director Ahmed Khan says multi-talented actor Tiger Shroff's screen presence is so strong that projecting him as an ordinary man does not seem feasible. View More..

Updated On :
Mar 27,2018 11:02 am
Mumbai, March 27 (IANS) Akash Ambani, son of Reliance Industries Ltd Chairman Mukesh Ambani, got engaged to Shloka Mehta, daughter of diamond magnate Russell Mehta on Saturday and to celebrate the occasion, a lavish party was thrown on Monday night that witnessed many celebrities attending. View More..

Updated On :
Mar 08,2018 9:58 pm
Mumbai, March 8 (IANS) Actress Aishwarya Rai Bachchan and Jaya Bachchan along with other Bollywood personalities attended a prayer meeting to bid the last adieu to Nargis Rabadi, popularly known as 'Shammi Aunty', on Thursday here. View More..

Updated On :
Mar 06,2018 11:58 pm
Mumbai, March 6 (IANS) Actress Aishwarya Rai Bachchan on Tuesday said she is happy to continue making a small contribution in bringing about a larger and effective change for children born with clefts. View More..

Updated On :
Mar 04,2018 4:32 pm
Chennai, March 4 (IANS) Superstar Rajinikanth's younger daughter Soundarya Rajinikanth on Sunday condemned the leak of the "2.0" teaser and called it a "heartless act". View More..

Updated On :
Feb 28,2018 7:20 pm
Mumbai, Feb 28 (IANS) Lakhs of people joined film stars and celebrities to bid adieu on Wednesday to the first lady superstar of India Sridevi, who was cremated here with state honours amidst outpouring of grief by her fans. View More..

Updated On :
Feb 28,2018 5:48 pm
Mumbai, Feb 28 (IANS) Several lakhs turned up to join a long procession -- among the largest in recent times -- to mark the final journey of actress Sridevi which started near her residence to a crematorium in Vile Parle on Wednesday afternoon. View More..

Updated On :
Feb 28,2018 3:40 pm
Mumbai, Feb 28 (IANS) Thousands of fans joined a long procession to mark the final journey of veteran Bollywood actress Sridevi, which started from near her residence to a crematorium in Vile Parle this afternoon. View More..

Updated On :
Feb 28,2018 2:32 pm
Mumbai, Feb 28 (IANS) The Maharashtra government has decided to accord actress Sridevi full state honours at her funeral scheduled later on Wednesday afternoon, official sources said. View More..

Updated On :
Feb 28,2018 12:26 pm
Mumbai, Feb 28 (IANS) Thousands of people including celebrities and Bollywood personalities mourned for actress Sridevi here on Wednesday. View More..

Updated On :
Feb 15,2018 2:12 pm
Mumbai, Feb 15 (IANS) Filmmaker Ashutosh Gowariker says it is an exhilarating feeling that "Jodhaa Akbar", which clocked 10 years of its release on Thursday, is still appealing to the audience. View More..

Updated On :
Feb 08,2018 3:50 pm
Mumbai, Feb 8 (IANS) When "Pad Man" hits the screens on Friday, it will be the first time that actress Radhika Apte won't be present in Mumbai for her film's release. She says the movie is special, but she is busy with the shoot of another project in Delhi. View More..

Updated On :
Feb 07,2018 11:34 am
New Delhi, Feb 7 (IANS) Sabyasachi Mukherjee just wanted to earn money to get on an airplane and travel the world when he entered the fashion industry, and went on to make a special place for himself by weaving traditional stories with threads of Indian culture through his creations. India's ace couturier says he wants to make sure that he "comes up with something that the copy market can copy" that in turn creates jobs in the market. View More..

Updated On :
Feb 06,2018 2:12 pm
Mumbai, Feb 6 (IANS) It's not such an easy journey to make for a woman in Bollywood, says Prernaa Arora, who has established her name as a producer with two back-to-back hits "Rustom" and "Toilet: Ek Prem Katha" to her credit. As her third project "Pad Man" is about to be unveiled, she looks at the future not as a female producer but as direct competition for the other Bollywood producers. View More..