Amitabh Bachchan Biography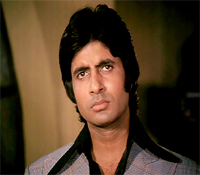 Amitabh Bachchan, a great personality and mega star in Bollywood since four decades. This renowned actor was born in the holy city of Allahabad, UP and son of prominent Hindi poet Dr. HarivanshRaiBachchan and Teji Bachchan.
He took college education in art stream from Nainital's Sherwood School and later he studied in Kirori Mal College in Delhi University.
Before entering to film industry, he was employed as freight broker for the shipping firm, Bird and Co., based in Calcutta. He left the job to choose career in acting.
He tied knot with famous actress Jaya Bhaduri in 1973 as per Bengali tradition. They both have two kids, daughter Shweta and son Abhishek who is also a popular bollywood star.
Amitabh first appeared in film Saat Hindustani in 1969 in which he got national film award but it could not generate much revenue. He was highly praised in the film "Anand" that was a bumper hit at box office. In this movie he appeared in supporting role with the superstar of that time Rajesh Khanna. He won a Filmfare Best Supporting Actor Award for his excellent performance.
After Anand, Amitabh did some good films such as Reshma Aur Shera (1971) and Parwaana (1971) but were unsuccessful at box office. In the era of 70s, Amitabh created his image as "angry young man" and that image still linger on. His first box office hit was Zanjeer directed by by PrakashMehra in which Amitabh had lead role. His other hits were 'Laawaris', 'Coolie', 'Naseeb', 'Silsila', 'Sharabi' and 'Jaadugar. All these movies had good theme and people can never forget his superb acting. He played lead role in 'Shahenshah that shivered the whole country and majority of Indian became fan of Amitabh.
When he was at the peak of acting career, Amitabh entered in the politics and elected member of the Indian Parliament from the year 1984 to 1987.
Bachchan established a company named Amitabh Bachchan Corporation, Ltd. (A.B.C.L.) in 1996. It was India's premier entertainment company in 2000 and this company launched products and services covering the entire range of the India's entertainment industry.
In 2000, Amitabh Bachchan hosted very popular television show Kaun Banega Crorepati and earned applauds for his marvellous performance as a host. This show is still television and Amitabh is hosting with great enthusiasm and energy to entertain the viewers.
Amitabh gave highly praised performance in award winning film Paa which enhanced his image in Indian as well as international film arena.
Recently he played a lead role in political film Satyagraha produced by Prakash Jha. It is based on the current political situation of India where Bachchan protested against flawed government system of India. His highly motivated acting was appreciated by the Indian viewers.
The speciality of this mega star is that he is continuously working in cinema to give his best and maintaining the popularity.
Amitabh Bachchan Latest News
Updated On :
Feb 18,2017 10:38 am
New Delhi, Feb 18 (IANS) From crooning romantic lyrics to hip-swaying numbers, Bollywood celebrities lending their voice for films and even singles has become common. But now Hindi film stars are taking a step further by keeping up with times and rapping verses for movies and advertisements too. View More..

Updated On :
Feb 18,2017 7:24 am
Mumbai, Feb 18 (IANS) A galaxy of Bollywood stars attended the grand reception of the newly-wed couple -- actor Neil Nitin Mukesh and Rukmini Neil Mukesh here. View More..

Updated On :
Feb 17,2017 11:04 am
Chennai, Feb 17 (IANS) Maverick filmmaker Ram Gopal Varma, popularly known as RGV, on Friday said his upcoming multilingual biopic on late Tamil Nadu Chief Minister J. Jayalalithaa's close aide V.K Sasikala will be "unimaginably shocking". View More..

Updated On :
Feb 16,2017 11:54 pm
Mumbai, Feb 16 (IANS) Arjun Rampal who will be playing a visually impaired character in the much-awaited sequel to the 2002 hit film Aankhen, said he was not competing with anyone but the challenge is to raise the standard. View More..

Updated On :
Feb 16,2017 1:00 pm
Mumbai, Feb 16 (IANS) Megastar Amitabh Bachchan has completed over four decades of his cinematic journey and says he became an "official entrant" in Bollywood on February 15, 1969. View More..

Updated On :
Feb 16,2017 10:32 am
New Delhi, Feb 16 (IANS) He has been in the fashion industry for over 25 years and has seen many aspirants try their luck. But, says veteran designer Rohit Bal, though there is a lot of talent, many newcomers don't follow their instinct for originality. View More..

Updated On :
Feb 15,2017 8:12 pm
New Delhi, Feb 15 (IANS) Greetings and praises for ISRO from various ministers, Bollywood stars and other eminent personalities flooded Twitter on Wednesday as the space agency created a world record by successfully putting 104 satellites into orbit. View More..

Updated On :
Feb 15,2017 2:18 pm
New Delhi, Feb 15 (IANS) Ace designer Rohit Bal, who has a history of 25 years in the fashion industry, is on expansion spree as he plans to open around 40 stores of his label Balance in next two years. View More..

Updated On :
Feb 14,2017 6:22 pm
New Delhi, Feb 14 (IANS) It's a 1,200-page love of labour that's taken 12 years to compile and on Tuesday, the 12th copy of Michelin Star Chef Vikas Khanna's limited edition "Utsav - A Culinary Epic" was auctioned for Rs 30 lakh that will go to feed 200,000 underpriveleged children through an NGO he supports. View More..

Updated On :
Feb 13,2017 8:32 pm
New Delhi, Feb 13 (IANS) Filmmaker Shoojit Sircar, who has worked with megastar Amitabh Bachchan in films like "Piku" and "Pink", says the best thing about the megastar -- who is often childlike -- respects young talent in the movie industry a lot. View More..

Updated On :
Feb 13,2017 2:10 pm
Mumbai, Feb 13 (IANS) His films are often about exploring the unexplored subjects in Hindi cinema -- and he does it with a rare ease. Filmmaker Shoojit Sircar says it is his background in theatre which has taught him how to take risks. View More..

Updated On :
Feb 13,2017 1:38 pm
Chennai, Feb 13 (IANS) Actor Suriya didn't take money for lending his voice for the Tamil version of forthcoming multi-lingual war drama "Ghazi", a lesser known story about the mysterious sinking of PNS Ghazi submarine during the India-Pakistan 1971 war. View More..

Updated On :
Feb 11,2017 1:46 pm
Mumbai, Feb 11 (IANS) Even at 74, Amitabh Bachchan is in no mood to hang up his boots. View More..

Updated On :
Feb 09,2017 3:22 pm
Mumbai, Feb 9 (IANS) Megastar Amitabh Bachchan has donated Rs 51 lakh as part of funds to be used to build an auditorium in Delhi's Kirori Mal College from where he graduated. View More..

Updated On :
Feb 08,2017 7:50 pm
Mumbai, Feb 8 (IANS) Ram Gopal Varma's "Sarkar 3", featuring megastar Amitabh Bachchan, will now release on April 7 instead of March 17. View More..

Updated On :
Feb 05,2017 1:48 pm
Mumbai, Feb 5 (IANS) Megastar Amitabh Bachchan is in celebratory mood as his son and actor Abhishek Bachchan turned 41 on Sunday. View More..

Updated On :
Feb 04,2017 1:00 pm
Mumbai, Feb 4 (IANS) On the completion of 12 years of Sanjay Leela Bhansalis "Black" on Saturday, megastar Amitabh Bachchan revealed that he didnt take any salary to work in the project as just working with the filmmaker in such a project was "sufficient fees". View More..

Updated On :
Feb 04,2017 4:02 am
Mumbai, Feb 4 (IANS) It has been twelve years since the release of Sanjay Leela Bhansali's widely celebrated film "Black" and on Saturday, its lead star Amitabh Bachchan described the experience of working in the film as "amazing". View More..

Updated On :
Feb 03,2017 6:32 pm
Mumbai, Feb 3 (IANS) Actor Sharad Kelkar will be seen playing a visually challenged character named Rishab in the upcoming TV show "Koi Laut Ke Aaya Hai". View More..

Updated On :
Feb 02,2017 11:46 pm
Mumbai, Feb 2 (IANS) Southern star Regina Cassandra, who is all set to make her Bollywood debut with megastar Amitabh Bachchan starrer "Aankhen 2", says she is really excited at the shift. View More..