Abhishek Bachchan Biography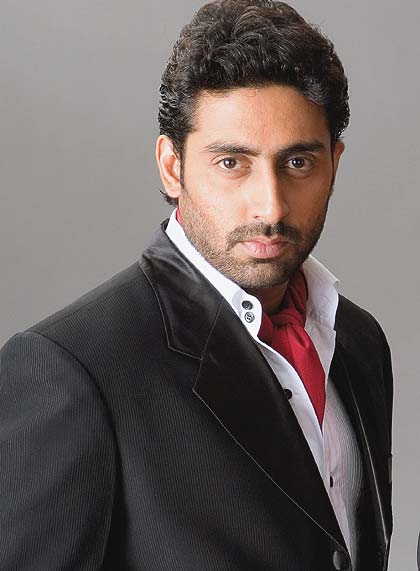 Name: Abhishek Bachchan
Nickname: Junior B,Abi
Height: 6' 3" (1.91 m)
Dob: 5 February 1976

Abhishek Bachchan belongs to the family of the most popular personalities in Indian cinema. He was born to megastar Amitabh Bachchan and famous actress Jaya Bachchan on February 5, 1976.
Abhishek was brought up under the guidance of his parents and inherited their acting flair. From the beginning, he refined his skill of acting and dedicated himself to give good performances.
He developed into a good artiste and has made his own image in the film industry.
Abhishek made his debut in the film Refugee, produced by J.P. Dutta. Critics appreciated his performance in this film but the movie as such was unsuccessful at the box office. Later, his other two films were also flop.
In 2004; he proved his acting skill in Yuva produced by Mani Ratnam. He won his first Filmfare Award for Best Supporting Actor. In the same year he also gave blockbuster film Dhoom which was his first commercially successful film.
Another film, Bunty Aur Babli opposite Rani Mukerji produced by Shaad Ali's was super hit at the box office. With this film, Abhishake became popular among the audience.

He also gave another blockbuster film Kabhi Alvida Naa Kehna in 2006 that collected Rs 458 million and also earned over Rs 480 million overseas. He worked in many big films like Paa, Dhoom 2, Dostana and Guru which were appreciated by the public and made him a prominent hero in Bollywood.
Abhishek received his third Filmfare Award for his performance in Paa. He entered into the category of the highest paid actors in Bollywood in the year 2010.
His film Bol Bachchan produced by Rohit Shetty was super hit at box office and became a part of the 100 crore club. For this Abhishek bagged the Best Actor award in a Comic Role at TOIFA.
Abhishek married the gorgeous actress Aishwarya Rai on 20 April 2007. In 2011, Aishwarya gave birth to a baby girl, Araadhya. Abhishek gave credit of his success to his beautiful wife, and has dedicated the awards to her.
Abhishek Bachchan Latest News
Updated On :
Nov 21,2018 12:12 am
Mumbai, Nov 21 (IANS) Actress Aishwarya Rai Bachchan, who is a supporter of Smile Train India foundation, has said it is unfortunate that people connect cleft palate condition with superstition. View More..

Updated On :
Nov 20,2018 12:56 pm
Mumbai, Nov 20 (IANS) Indian stars Kareena Kapoor Khan, Abhishek Bachchan, Madhuri Dixit Nene, Anil Kapoor and Jackie Shroff will lend their voices to characters of Netflix's "Mowgli: Legend of the Jungle" for its Hindi dubbed version. View More..

Updated On :
Nov 17,2018 12:00 pm
Mumbai, Nov 17 (IANS) Priyanka Chopra and Nick Jonas have company. Older women in love with younger guys seems to be a trend taking hold of the entertainment industry. There is a lot in common between the two newly "outed" couples in the entertainment industry, Arjun Kapoor-Malaika Arora amd Harshvardhan Rane-Kim Sharma. View More..

Updated On :
Nov 16,2018 4:08 pm
Mumbai, Nov 16 (IANS) Megastar Amitabh Bachchan, son of late celebrated poet Harivansh Rai Bachchan, says writers are the most important part of the filmmaking process. View More..

Updated On :
Nov 16,2018 10:42 am
Mumbai, Nov 16 (IANS) Megastar Amitabh Bachchan, on his granddaughter Aaradhya Bachchan's seventh birthday, penned a heart-warming message saying she should live happy and with pride. View More..

Updated On :
Nov 01,2018 4:10 pm
Mumbai, Nov 1 (IANS) Actor Abhishek Bachchan sent out a special birthday wish for wife Aishwarya Rai Bachchan who turned 45 on Thursday. View More..

Updated On :
Oct 29,2018 7:04 pm
Kolkata, Oct 29 (IANS) Amid the speculation surrounding his upcoming film, director Anurag Basu on Monday said it is not a sequel to his critically acclaimed movie "Life... In A Metro", released in 2007. View More..

Updated On :
Oct 24,2018 1:46 pm
New Delhi, Oct 24 (IANS) Celebrity trainer Shivoham, who has worked with celebrities like Aamir Khan, Abhishek Bachchan, Sonakshi Sinha, Jacqueline Fernandez and Ranveer Singh, says that it's good to imbibe a healthy lifestyle and training from celebrities but one should not forget that every person is unique and what might work for these A-listers won't work for them. View More..

Updated On :
Oct 21,2018 6:22 pm
Mumbai, Oct 21 (IANS) After Bollywood stars Deepika Padukone and Ranveer Singh announced their marriage on social media on Sunday, celebrities like Karan Johar, Nimrat Kaur, Milap Zaveri and Divya Dutta congratulated the star couple. View More..

Updated On :
Oct 17,2018 2:10 am
Mumbai, Oct 17 (IANS) On the very special occasion of the 20th anniversary celebration "Kuch Kuch Hota Hai" (KKHH), the lead actor of the film, Bollywood superstar Shah Rukh Khan said on Tuesday that initially, director Karan Johar narrated a 'crap story' but he signed the film because of the conviction of the director. View More..

Updated On :
Oct 10,2018 9:44 pm
Chennai, Oct 10 (IANS) Siddharth Desai and Iran skipper Fazel Atrachali sizzled as U Mumba got the better of inaugural champions Jaipur Pink Panthers 39-32 in a see-saw Pro Kabaddi clash at the packed Jawaharlal Nehru Indoor Stadium here on Wednesday. View More..

Updated On :
Oct 09,2018 4:38 pm
Mumbai, Oct 9 (IANS) As an increasing number of people are opening up on sexual harassment in Bollywood, film director Anurag Basu feels the #MeToo movement will bring about a positive change that will make the industry a safer place for women to work. View More..

Updated On :
Oct 01,2018 5:56 pm
Mumbai, Oct 1 (IANS) Krishna Kapoor, the widow of the legendary Bollywood actor-filmmaker Raj Kapoor, died here on Monday at the age of 87, bringing an end to the second generation of the influential clan. View More..

Updated On :
Sep 29,2018 12:02 am
New Delhi, Sep 28 (IANS) A huge crowd of fans -- from every nook and corner of the city and NCR -- waited for hours to catch a glimpse of megastar Amitabh Bachchan, who took to a stage at a south Delhi market on Friday with wife Jaya and daughter Shweta Bachchan. View More..

Updated On :
Sep 27,2018 12:38 pm
New Delhi, Sep 27 (IANS) Kabaddi is a native sport that was largely popular in rural India. But with the glamourising of the sport through a professional league that gave it a national as well as international audience, it was only a matter of time before Bollywood gave it some well-deserved attention. View More..

Updated On :
Sep 21,2018 7:34 pm
Mumbai, Sep 21 (IANS) "Manmarziyaan" actor Abhishek Bachchan, who features in a smoking scene which is among the three deleted scenes from the film, says there's no harm in excluding some content if it hurts people's sentiments. View More..

Updated On :
Sep 20,2018 6:14 pm
Mumbai, Sep 20 (IANS) Filmmaker Anurag Kashyap on Thursday expressed angst after three scenes -- two involving Sikhs smoking -- were deleted from his latest movie "Manmarziyaan", apparently without his knowledge. View More..

Updated On :
Sep 19,2018 5:32 pm
Mumbai, Sep 19 (IANS) Filmmaker Anurag Kashyap, whose film "Manmarziyaan" has reportedly upset some Sikhs, says the Abhishek Bachchan, Taapsee Pannu and Vicky Kaushal-starrer is a story of three persons and not Sikhism. He is sorry though the intention was not to hurt the community. View More..

Updated On :
Sep 17,2018 3:10 pm
Mumbai, Sep 17 (IANS) Band Euphoria's frontman Palash Sen, who is directing a new short film titled "Iktarfa" on the digital platform, says it is a gift to people who love "unconditionally". View More..

Updated On :
Sep 14,2018 12:48 am
Film: Manmarziyan; Starring Abhishek Bachchan, Tapsee Pannu, Vicky Kushal; Directed by Anurag Kashyap; Rating: **** (4 and a half stars) View More..