Jennifer Lopez Biography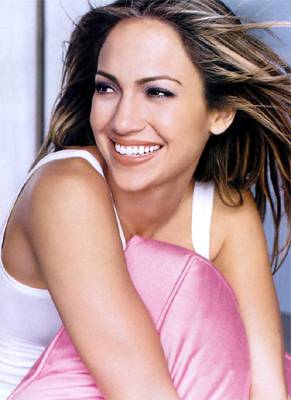 A multi-talented personality Jennifer Lopez has carved a niche for herself in the musical albums where her dance and acting skills are being showcased.
Lopez is one of the few top ladies in Hollywood who had done a fine tight rope walking between the film career and her solo musicals (pop videos) which earned her a great fan following around the world.
Meteoric rise to stardom
Jennifer Lopez (born: July 24, 1969) appeared in stage musicals and music albums as a dancer in her young age.
Born and brought in Bronx, New York, she won a national competition (1990) and got a spot dancing on the comedy TV series In Living Colour.
She essayed a number of small acting roles in TV soaps and tele-film Nurses on the Line: The Crash of Flight 7 (1993).
Her first feature film was Mi Familia (My Family) in 1995 which got her critical acclaim.
The first break in her career was the title role in Selena (1997), a biopic on Tejana pop singer who was killed by her fan.
She got a Golden Globe nomination for her performance in Selena and received a pay cheque of $1 million for portraying that role.
Her roles in Anaconda and Blood and Wine were, however, forgettable.
She acted as a federal marshal in Out of Sight directed by Steven Soderbergh and shared the screen presence with George Clooney.
This character further lifted her status as a dependable star in the Hollywood industry.
Musical albums, a grand success
Lopez released her debut Latin pop album On the 6 (1999) which madeher one of the most influential singers in the Latin cultural space in the pop music.
Her solo performance in the number If You Had My Love in the album was a great hit and the CD sales crossed one million within two weeks.
She along with Ricky Martin was considered the most successful artiste in the Latin pop album scene. In 2000, her second hit number Waiting for Tonight got her nomination for Best Dance Performance.
But she narrowly lost the award to veteran singer Cher. She acted as a child psychologist in a sci-fi thriller The Cell(2000) and in the same year she starred in Enough expressing the sufferings due to spousal abuse.
The year 2001 was most satisfying to Lopez as her popularity soared. Her album J. Lo made it to the No. 1 slot in the pop charts and her film The Wedding Planner, a romantic comedy, grossed revenues to reach the box office top in the first weekend.
Doing an encore in December 2002, she released a musical This is Me... Then which was an instant hit. She did a lead role in a social comedy Maid in Manhattan in the same year which too was revenue grosser.
Jennifer Lopez did essay some memorable roles in Jersey Girl pairing with Ben Affleck and An Unfinished Life in which she played a single mother having to come under the care of her father-in-law (Robert Redford).
In a dance musical Shall We Dance?, she partnered with actor Richard Gere to recreate the top rated Japanese film in English.
Troubled life hogs limelight
Lopez's first marriage to model cum actor Ojani Noa in 1997 was short-lived.
Her romantic affair with rapper Sean "Puffy" Combs had got wide publicity until it broke off after a shooting incident between them in December 1999 near at New York City nightclub.
After her breakup with Combs was made public, Lopez got a new boyfriend in dancer Cris Judd who had performed in her hit single Love Don't Cost a Thing.
They got married in September 2001, but the couple parted ways nine months later.
In 2002 November, Lopez got engaged with actor Ben Affleck who she was dating for some time. But she fell out with the actor in early 2004.
Lopez married singer Marc Anthony in June 2004 at a private ceremony in her Los Angeles mansion.
Proud mother of twins
She and her husband Antony acted as lead pair in the film El Cantante (2006), the story of a salsa singer and his wife.
Her first Spanish album Como Ama una Mujer (2007) topped the Latin pop charts.
Lopez met with continuing success in the album Brave even as personal life evoked much interest in the media. On 22 February 2008, Lopez gave birth to twins -- a baby boy and girl. Reality show in TV.
In 2010 Jennifer Lopez replaced Ellen DeGeneres as the new female judge during the eleventh season of American Idol. She returned to the reality show earning $20 million, nearly double of what she got in her first stint.
While her career was on the upswing, she announced parting of ways with Marc Anthony in July 2011. In 2012, Lopez left the American Idol only to return to the reality show on its 13th season two years later.
In 2014, she separated from dancer Casper Smart after two and a half years of living together.
Jennifer Lopez Image Gallery

Jennifer Lopez Images

Jennifer Lopez Gallery

Jennifer Lopez Pictures
Jennifer Lopez News
Updated On :
Jul 09,2018 4:16 am
Los Angeles, July 9 (IANS) Model-actress Emily Ratajkowski says she is a big fan of the A-list beauty treatment - the microcurrent facial. View More..

Updated On :
Jun 29,2018 11:10 am
Los Angeles, June 29 (IANS) Singer-actress Jennifer Lopez's daughter has inherited her mother's entrepreneurial spirit and creativity as is soon going to land a book deal. View More..

Updated On :
Jun 02,2018 2:16 am
Los Angeles, June 2 (IANS) Singer-actress Jennifer Lopez says her boyfriend Alex Rodriguez is shocked by how fast she can run. View More..

Updated On :
May 31,2018 7:44 pm
Los Angeles, May 31 (IANS) Three-time Grammy Award-winning band Maroon 5 has unveiled the music video for their new single "Girls Like You" featuring Cardi B. The video features stars like Gal Gadot, Ellen DeGeneres, Camila Cabello, Rita Ora, Jennifer Lopez and Mary J. Blige. View More..

Updated On :
May 21,2018 12:10 pm
Las Vegas, May 21 (IANS) Six-time Grammy Award winner Janet Jackson graced the Billboard Music Awards stage to receive the prestigious Icon Award -- becoming the first black woman to get it -- on Sunday. Not only was the moment her first television performance in nine years, but it was also the first time she performed as a mother. View More..

Updated On :
May 16,2018 5:00 pm
Mumbai, May 16 (IANS) Actor Rajkummar Rao says he is honoured to work with UN Environment and the Ministry of Environment, Forest and Climate Change for the cause 'Beat Plastic Pollution'. View More..

Updated On :
May 08,2018 10:38 am
New York, May 8 (IANS) With halos and Pope-inspired dresses, the Met Gala 2018 red carpet saw Indian actresses Priyanka Chopra and Deepika Padukone making a statement in their very own ensembles in sync with the "Heavenly Bodies: Fashion and the Catholic Imagination" theme. View More..

Updated On :
May 08,2018 8:00 am
Los Angeles, May 8 (IANS) Six-time Grammy Award winner Janet Jackson will receive the Icon Award at the Billboard Music Awards later this month. View More..

Updated On :
May 06,2018 6:56 am
Miami, May 6 (IANS) Actress-singer Jennifer Lopez showed off her fit and toned abs in a hot pink long-sleeved crop top and black workout pants here. View More..

Updated On :
May 03,2018 6:26 am
Los Angeles, May 3 (IANS) Singer-actress Jennifer Lopez says she is glad her boyfriend Alex Rodriguez sees her as a great role model for his daughters. View More..

Updated On :
Apr 20,2018 10:32 am
Mumbai, April 20 (IANS) Designers Shane and Falguni Peacock will be dressing American rock-pop band One Republic and Grammy nominated American rapper Tyga for their maiden gigs in India. View More..

Updated On :
Apr 06,2018 4:34 pm
Mumbai, April 6 (IANS) Singer-actress Jennifer Lopez is set to launch her limited edition cosmetic line in collaboration with the beauty brand Inglot. View More..

Updated On :
Apr 05,2018 1:52 pm
Los Angeles, April 5 (IANS) The Jennifer Lopez-led police drama "Shades of Blue" will end after its upcoming third season. View More..

Updated On :
Mar 16,2018 12:50 pm
Los Angeles, March 16 (IANS) Singer-actress Jennifer Lopez says she was asked by a director to show her breasts. View More..

Updated On :
Mar 06,2018 1:56 am
Las Vegas, March 6 (IANS) Singer Gwen Stefani could be the next A-list musician doing a residency here. View More..

Updated On :
Feb 22,2018 6:16 am
Los Angeles, Feb 22 (IANS) American TV host Wendy Williams has faced a backlash from fans for criticising singer-actress Beyonce Knowles and saying she needs autotune. View More..

Updated On :
Feb 04,2018 6:14 pm
Los Angeles, Feb 4 (IANS) Singer-actress Jennifer Lopez, who went through eight costume changes for a pre-Super Bowl concert in Minneapolis, grabbed eyeballs with her famous curves in a skin-tight leopard-print catsuit. View More..

Updated On :
Jan 16,2018 2:42 am
Los Angeles, Jan 16 (IANS) Model Dita Von Teese plans to embrace her grey hair when the time comes. View More..

Updated On :
Jan 08,2018 2:40 pm
London, Jan 8 (IANS) Singer Madonna's former personal trainer Tracy Anderson has claimed the star was too unpredictable for her. View More..

Updated On :
Dec 06,2017 5:22 am
Los Angeles, Dec 6 (IANS) Actor Milo Ventimiglia keeps his personal life out of the spotlight because he wants people to focus on the character. View More..