Indian Team Events
The section consists of some of the events that took place around the world inside and outside the ground in the game of cricket.
Important events relating to the prominent cricketing personalities which can be an interesting ones to the general sports lovers will get the place here.
Anything relating to the personal life of any cricketer, playing or retired, and which are interesting to a cricket lover, will also get the place in this section.
Sachin Tendulkar Retired From International Cricket
Posted on: 18-11-2013
Indian Master Blaster The God Of Cricket Sachin Tendulkar retired from the International Cricket with tears on Saturday at his home ground Wankhede Stadium.
The Little Master' leaves field in tears as he brings an end to a glittering 24 year career for India came to an end.
A 40 years old Sachin embraced teammates as his 200th test match against the West Indies ended, but as they tried to give him a guard of honor on his way off the ground, the most prolific batsman in international cricket history rushed past them, quickly making his way into the pavilion wiping away tears.
Sachin Tendulkar already retired from all other formats of Cricket. He spokes in the Awards ceremony, he started with emotionally, "All my friends, settle down and we'll talk or else I'll get more and more emotional," he said to calm the enthusiastic crowd. "My life's been between 22 yards for 24 years and it's hard to believe that such a wonderful journey is coming to an end."
He thanked his family who all are supporting his career. He also thanked his senior cricketers, doctors, sports officials and the media before moving his attention to the crowd.
"Time has flown by very quickly, but the memories will remain with me forever, especially the 'Sachin, Sachin'," he said, prompting the crowd let out the chant once more.
Tendulkar, waving the Indian flag, was then taken around the ground by team-mates on their shoulders in similar fashion to the victory lap after the 2011 World Cup victory at the same venue.
After a lap of the ground, he went out to the pitch alone as the player of India in last time, he bent down to touch it with his right hand and then touched his eyes and forehead in a traditional Indian sign of reverence before moving back to the pavilion.
Sachin Tendulkar Awards
Career and Annual Awards
1994: Arjuna Award Recipient for achievements in cricket

1997: Tendulkar was one of the five cricketers selected as Wisden Cricketer of the Year

1997/98: India's highest sporting honour – Rajiv Gandhi Khel Ratna

1999: Padma Shri – India's fourth highest civilian award

2008: Padma Vibhushan – India's second highest civilian award

2010: ICC Cricketer of the year – Highest award in the ICC listings

2010: LG People's Choice Award

2013: Bharat Ratna - India's highest civilian honour.

ICC World Test XI: 2009, 2010, 2011

ICC World ODI XI: 2004, 2007, 2010

Wisden Leading Cricketer in the World 1997, 2010, 2012

Bharat Ratna 2013.
Awards from the Media
In August 2003, he was voted as the "Greatest Sportsman" of the country in the sport personalities category in the Best of India poll conducted by Zee News.

In November 2006, Time magazine named him as one of the Asian Heroes

In December 2006, he was named "Sports person of the Year"

In June 2009, Time magazine included his Test Debut in "Top 10 Sporting Moments".

In 2010, he was voted as one of the world's 100 most influential people in "The 2010 TIME 100" poll conducted by Time magazine.

The current India Poised campaign run by The Times of India has nominated him as the Face of New India next to the likes of Amartya Sen and Mahatma Gandhi among others.

In February 2010,he was declared "Sports Icon of the Year for 21 years" by NDTV at the NDTV Indian of the Year Awards.
---
Sachin Tendulkar Announced Retirement from ODI Matches
Posted on: 26-12-2012
After 23 years of playing one-day internationals, the God of Cricket Sachin Tendulkar has announced retirement from the ODI format Cricket On 23 December 2012. Sachin has already stopped playing T20s.
The Board of control for cricket in India (BCCI) released Sachin's statement on 23rd morning. It read, "I have decided to retire from the One Day format of the game. I feel blessed to have fulfilled the dream of being part of a World Cup wining Indian team.
The preparatory process to defend the World Cup in 2015 should begin early and in right earnest. I would like to wish the team all the very best for the future. I am eternally grateful to all my well wishers for their unconditional support and love over the years."
Tendulkar's retirement plans have been intensely debated in recent times through a long patch of poor form. The most prolific run getter in the world ever is 39 years of age. He holds every batting record in the book.
He made his debut on December 18, 1989, as a 16-year-old against Pakistan. He played his last ODI on March 18, 2012, also against Pakistan in the Asia Cup.
Sachin's last ODI hundred came in the Asia Cup in Bangladesh in March this year, a feat that completed an unprecedented 100 international tons.
Sachin has scored 18,426 runs in 463 one dayers. His highest score in ODIs is 200 runs that came in 2010 against South Africa in Gwalior. Sachin has scored 49 centuries and 96 fifties in this format.
Sachin Tendulkar was conferred with the membership in the Order of Australia (AM) in Mumbai on 6 November 2012. Simon Crean, minister in the Australian cabinet, presented the award to Tendulkar. Julia Gillard, the Australian Prime Minister, was on an official visit to New Delhi in October and had announced Tendulkar's name as the latest recipient of the award.
---
Sehwag played his 100th Test in Mumbai
Posted on: 23-11-2012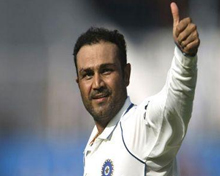 One of the Indian Dashing opening batsman "Virender Sehwag" played 100th Test Match in his career at Mumbai's Wankhede Stadium on 22-11-2012 against England.
He was India's ninth cricketer achieved this feat in the list of Tendulkar, Rahul Dravid, Gavaskar, Dilip Vengsarkar, Sourav Ganguly, VVS Laxman, Kapil Dev and Anil Kumble.
In the 99 Test matches he has so far played, the 34-year-old amassed 8,448 runs including runs by 23 centuries and 32 half-centuries, an average of 50.89 and a staggering strike rate of 82.45 to boot amazing figures for a Test batsman.
He is also the only Indian cricketer to score two triple centuries. His first triple ton came against Pakistan in 2004 in Multan, while his second one was against South Africa in 2008 in Chennai.
In his first Test as an opener, Sehwag struck a belligerent 84 and he came to stay as an opener, though he kept saying that he would prefer to bat in the middle-order despite his resounding success as an opener.
He revolutionised the game with his approach as an opener, amassing runs at a frenetic pace. His strike rate of 82.45 is the best for any batsman who has aggregated 2000-plus runs.
Sehwag, who made his first-class debut as a bowler who was a handy bat lower down the order, was moved to the top by skipper Sourav Ganguly at Lord's in 2002 to find a place for him in the side as he could not have fitted in the middle-order. This reluctant change came about after he became the 11th Indian to score a hundred on debut batting in the middle-order against South Africa in Bloemfontein in 2001.
"Sehwag can change the course of a match with the ease of Moses parting the Red Sea." Ian Chappell says Sehwag can put the fear of god in bowlers.
---
VVS Laxman announces retirement from international cricket
Posted on: 22-08-2012
Veteran Indian batsman VVS Laxman announced that he would be retiring from international cricket with immediate effect. Here Laxman words about his retirement.,
"Thank you everyone for coming over here at such a short notice. I would like to announce my retirement from international cricket with immediate effect".
It has been 16 years since I made my international debut for India and I feel it is the right time to move on. I have always kept the country's success and needs ahead of my personal aspirations and hence, while I would have loved to be contributing to the team success against England and Australia later in the season, I think it's the right time to give the opportunity to groom a youngster in home conditions before the tough tours overseas next year.
As a youngster, representing India was a dream and I am grateful to the almighty for blessing me to live my dream. I have always felt that through cricket, I got an opportunity to serve my country and I therefore took a lot of pride in wearing the India cap. I was fortunate to play in an era when the Indian cricket team played some of its best cricket, both at home and abroad.
I was very lucky that I had a lot of people during this fabulous journey who guided and encouraged me and I take this opportunity to sincerely thank all of them from the bottom of my heart. My parents, Dr V Shantharam and Dr V Satyabhama, for the upbringing they gave me which helped me face various challenges and situations in my career with equanimity and also for giving me the freedom and independence to pursue my passion of playing cricket. My uncle, Baba Krishna Mohan, who actually spotted the talent in me and probably had the biggest influence on my life.
The BCCI for giving me an opportunity to play for my country for nearly 16 years. All my coaches at the various teams I represented at the domestic and national levels, for always encouraging and motivating me to become a consistent performer. All the selectors, for reposing faith in my abilities and giving me an opportunity to serve the country. All the captains I played under, for inspiring me.
I conclude in all humility, by praying to the Almighty, to take Indian cricket to the highest level in the world in all forms of the game.
"Thank you for all your support".
---
Sachin Tendulkar Became Rajya Sabha MP
Posted on: 8-06-2012
Cricket LegendSachin Tendulkar was nominated by the government as Rajya Sabha MP on April 27.
Sachin Tendulkar accept that nominations he went to Rajya Sabha and took oath as a member of the Rajya Sabha. He took the oath in the chamber of the Rajya Sabha chairman Hamid Ansari by which sachin became the first active sportsperson of the country to be nominated as the Rajya Sabha member.
In a surprising move, Government had recommended Sachin's name along with Bollywood actress Rekha and businesswoman Anu Aga as the nominated member of the Rajya Sabha. Though Rekha and Aga took oath
Indian cricket captain Mahendra Singh Dhoni said, that his senior team-mate Sachin Tendulkar will make a contribution as a Rajya Sabha member also.
Sachin made it clear that his focus would be cricket and hinting at concentrating on Parliament work after he stops playing the game.
However, he hastened to add that he does not want rumours to swirl that he has stopped playing cricket for Parliament.
Sachin said, "I am here because of my cricketing career. I cannot take any focus away from my cricket. That is where it all started for me. I will focus on my cricket and as and when I stop playing cricket, I don't know, when I will start attending to other things".
I don't want rumours to start that I have stopped playing cricket. I will let everyone know when I will stop playing cricket, he said when asked how he would assuage people who aise questions whether he would be able to do justice to the job in Parliament when he is still playing cricket.
Cricket comes first, Tendulkar told reporters as he and wife Anjali were chaperoned by Shukla to Rajya Sabha Chairman Hamid Ansari's chamber.
---
Sachin Tendulkar Scores 100th Century
Posted on: 16-03-2012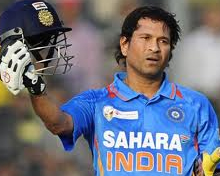 Sachin Tendulkar became the first batsman to make a 100 International Centuries, getting to the milestone against Bangladesh at the Shere Bangla stadium in Mirpur at 5:05pm local time on March 16, 2012. It ended a year-long wait for one of the most discussed landmarks in cricket history, and was his first ODI hundred against Bangladesh, completing his set of centuries against every Full Member country in both Tests and ODIs.
Despite the huge amount of hype surrounding the landmark, which has shown little sign of abating during the prolonged wait, there was no over-the-top celebration. The helmet came off and there was a wave of the bat, he looked up at the sky, as he usually does on reaching a hundred, and he acknowledged his team-mates by raising his helmet towards the dressing room. Several of the Bangladesh fielders congratulated Tendulkar
But this isn't the longest gap between his centuries. Having made his first international hundred in August 1990, it took Tendulkar 17 months (a year and 5 months) to score his second century. And since then he has made 99 centuries - 51 in Tests and 48 in ODIs.
He had had a brilliant in 1998 when he scored 12 tons in a year. In 1999 too he had a good run as he made eight centuries. He scored an equal number of centuries in 2010 as well.
---
Rahul Dravid Full Speach on his Retirement
Posted on: 9-03-2012
Rahul Dravid's retirement from international cricket was announced at his home ground, the Chinnaswamy Stadium. Family, team-mates, friends, KSCA members, officials and journalists had gathered to mark the end of a remarkable career and a "reassuring presence" in the Indian team. Dravid, the second-highest run-getter in the history of Test cricket, possibly the last of India's classical Test batsmen, was a cricketer who successfully straddled the old school with the new age, becoming a pivotal figure in the growth of India's Test team in the 21st century.
Here, we have and Rahul Dravid Full speach on his Retirement. Rahul Dravid Played 16 years for India, He called as "Wall" of India. He is an wonderfull player in Cricket history.
"I would like to announce my retirement from international and domestic first-class cricket. It has been 16 years since I first played a Test match for India, and I feel it's time for me to move on. Once I was like every other boy in India, with a dream of playing for my country. Yet I could never have imagined a journey so long and so fulfilling. I have had a wonderful time, but now it is time for a new generation of young players to make their own history and take the Indian cricket team even further."
No dream is ever chased alone. As I look back, as one does at such a time, I have many people to thank for supporting me, teaching me and believing in me. My junior coaches in Bangalore and at various junior national camps inculcated in me a powerful love of the game which has always stayed with me.
My coaches at the international level have added to my craft and helped shape my personality. They pushed me and challenged me to keep getting better. The physios and trainers worked hard to keep me fit -- not an easy job -- and allowed me to play late into my 30s.
The selectors who rarely receive any credit in India had, on occasions, more confidence in me than I had in myself and I am grateful for that. The various captains I played under offered me guidance and inspired me.
The media has been kind to me, and I have respect for their craft. The KSCA and BCCI have provided me a platform and the facilities to play the game.
But most of all, I have to thank the teams I played with. I know what I am going to miss the most is being part of a unit. The joy of bonding together and striving to achieve a goal is what made cricket special for me. I was lucky in my early years to play for a Karnataka team which was trying to forge itself into a strong side and they were years of fun and learning.
In the Indian team, I was fortunate to be part of a wonderful era when India played some of its finest cricket at home and abroad. Many of my teammates have become legends, not just in India but in the wider cricketing world. I admired them, learnt from them and I leave the game with wonderful memories and strong friendships. It is a great gift to have.
A career in sport is almost impossible to manage without the support, guidance, and reassurance of family and friends. During tough times -- and there have been many they are the ones we go to. I found strength and encouragement from my parents Sharad and Pushpa and brother Vijay and they created around me a positive environment which was essential to my success.
My wife, Vijeeta, has been a remarkable partner in my journey. She has made sacrifices in her own career and has almost been a single parent bringing up our children alone as I travelled abroad to play. Whenever challenges appeared, she was always there, as sounding board, as ally and as guide. Being away from my family became harder and harder through the years and I look forward now to spending time at home and doing the simple things, like just taking my sons (Samit and Anvay) to school.
Finally, I would like to thank the Indian cricket fan, both here and across the world. The game is lucky to have you and I have been lucky to play before you. To represent India, and thus to represent you, has been a privilege and one which I have always taken seriously. My approach to cricket has been reasonably simple: it was about giving everything to the team, it was about playing with dignity, and it was about upholding the spirit of the game. I hope I have done some of that. I have failed at times, but I have never stopped trying. It is why I leave with sadness but also with pride.
---
India's third highest run-chase
Posted on: 5-03-2012
India showed their best performance for their final match of the league stage of the CB series. Needing to win with a bonus point to stand a chance of making it to the finals, Virat Kohli (133 off 86), Gautam Gambhir (63 off 64), Suresh Raina (40 off 24), Sachin Tendulkar (39 off 30) and Virender Sehwag (30 off 16) all came good with the bat as India chased down a daunting target of 321 in just 36.4 overs to win with a bonus point.
India, by reaching the target, equalled their third best score in a successful run-chase in ODIs. Their highest was against England when they chased down 326 at Lord's in 2002 and their second best came against the West Indies when the achieved the target of 325 at Ahmedabad in 2002. This also also the 12th time that India have won a match chasing of 300 or more.
India reached the target of 321 at a break-neck speed as they scored at a run-rate of 8.75 to reach the mark. Taking the run-rates into consideration in highest run-chases, this is the Second best in ODI cricket. The best run-chase in terms of run-rate is the 438 that South Africa scored against Australia at Johannesburg in 2006. In that game, South Africa had scored at a rate of 8.78 per over to achieve the target.
Virat Kohli registered his best ever score in ODIs and his 133 not-out is also the third highest score in matches where India have successfully chased down totals of 300 or more. MS Dhoni tops that list with an unbeaten 183 against Sri Lanka at Jaipur in 2005 while Gautam Gambhir, who scored 150 not-out against the same opposition at Kolkata in 2009, is second on the list.
---
Virender Sehwag creates history becomes hits highest scorer in ODI
Posted on: 10-12-2011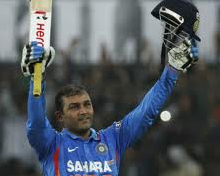 Indian batsman Virender Sehwag created history by becoming the highest scorer ever in a one-day innings and the second cricketer after teammate Sachin Tendulkar to score a 219 (double century) in the fourth ODI against the West Indies.
Sehwag smashed his way into record books with his stupendous 219, surpassing Tendulkar's 200 not out against South Africa.
He faced 140 balls and hit 23 fours and six sixes in his marathon innings.
This remarkable achievement gives Sehwag the unique distinction of being India's top scorer in both Tests and ODIs. He had scored 319 against South Africa in Chennai in 2008.